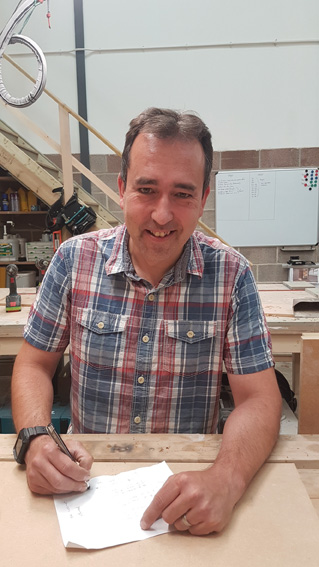 On Chris Chapman's 40th birthday he handed in his notice at work and returned home to his wife Steff. Cheerfully walking in through the door, he called out, "I'm home, 40 and unemployed". He had been wanting to set up his own business for a while and finally took the plunge. So, phoenix-like Chris Chapman Ltd emerged, a bespoke kitchen and design company operating from Beaminster. Today, Chris has five carpenters and fitters working for him while he designs and liaises with clients. Steff is at his side "doing all the bits I don't want to – and can't. This business wouldn't run without her", he smiles. Translated, Steff does all the number crunching, payroll, tax and bookkeeping for the business.
At work by 7.30am, Chris is there ready to send the fitters out in their vans at 8 am, giving them their jobs for the day. He sits at his mezzanine level desk, with huge screens in front of him, designing away for his clients. Conscious the buck stops with him, and to keep all the cogs turning, Chris often doesn't leave till around 7 pm, working on Saturdays and even the odd Sunday. He is adamant that the finished result for his clients should be perfect. Chris enjoys what he does, transforming tired spaces, creating new storage solutions and levels of functionality for previously disused corners.
Chris moved to Bridport 15 years ago, then bought a run-down house in Broadwindsor seven years ago where he lives with Steff, daughter Tabitha and their three dogs. Although the kitchen is fantastic, the rest of the house is still in need of his attention, vying with the demands of the business. When Chris does return home, Steff, a keen cook, has usually prepared something delicious, which is gratefully received.
One indulgence that Chris does have, and which takes him away the odd Sunday or for a few days, is his motorbike. Recently having returned from a trip across the Pyrennees with some mates, he now has his eyes set on a wild camping trip in Scotland next year. Having to make do with the Jurassic Coast as a backdrop to his Sunday ride is no hardship though, something Chris takes advantage of, as often as he can.