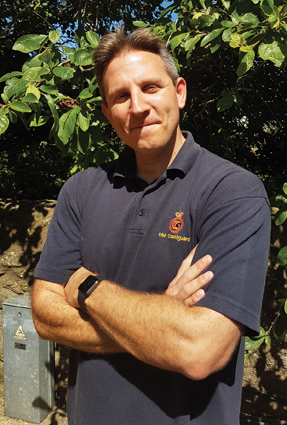 Second in command of a team of 12 volunteers that live and work in the local community, Jake Lanning is Deputy Station Officer of the West Bay Coastguard Rescue Team. A volunteer himself, he fits his commitments to the Coastguard around working full time as TV and Film Producer at Underground Media. Attending on average one to two call outs a week, 50 to 70 a year, as well as training every couple of weeks and attending PR events, the role is not for the faint-hearted. Never knowing what situation he is going to face when the alert goes out, being a Coastguard is exciting, operating where ambulances can't go, but also extremely demanding. Often members of the community are unaware of the sacrifices made by Jake and his peers in order to help those in need.
As a child he spent all his holidays around West Bay, always out on the beach and swimming in the sea. Jake then became a member of the beach lifeguard team at Weymouth, enjoying helping keep people safe and coming to the aid of those in trouble. Finding it humbling to be able to help and make a difference, the first thing Jake did when he and his wife decided to move to Bridport was apply to join the Coastguard.
They met in London, where Jake worked for many years. A professional dancer, Dee was being filmed for a programme and decided the cameraman, Jake, looked like someone she wanted to get to know better. Things worked out well for the couple and after years of eating out whenever they liked, enjoying all that's on offer in central London, when Dee became pregnant they decided to move out. Now living in Bridport with Dee and his two young boys, Jake is able to work from home most of the time, juggling his company with local commitments, when he's not travelling for work.
He looks after the children in the evenings when Dee is teaching a dance class, reserving Friday nights for the two of them. Date Friday is always something they look forward to, curled up on the sofa together, possibly with a Chinese takeaway, and some gritty TV series on the screen. But if the pager goes off, no matter how comfortable Jake is, he'll be up and away, off to help someone he's likely to have never met before, or indeed again.