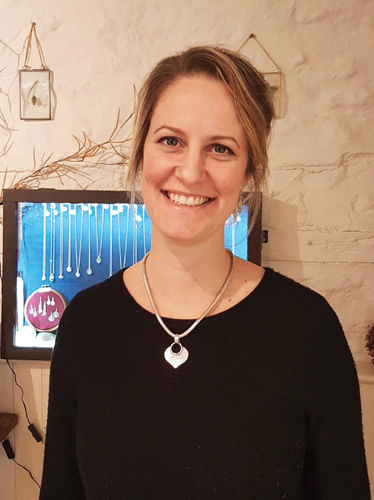 Nestled at the bottom of Colmer's Hill is the charming Symondsbury Estate Manor Yard, where visitors can eat and shop for local wares. The newest shop on the block is Wrixton-Smyth Creations, owned by Claire Wrixton, local jewellery designer. Long acquainted with the view of Colmer's Hill, she grew up in a house adjacent to the iconic silhouette, with its crown of pine trees. Each day she would gaze out of her bedroom window at the view which would emerge in her GCSE art coursework and beyond, materialising in her jewellery and even forming her logo.
Effectively self-taught, Claire explored different materials but felt the relatively new material, silver clay, was the best match. Motherhood, with two small children to look after, enabled Claire to focus on her jewellery making during nap times and stolen moments in the evenings. She started to sell at craft fairs and listed her items on Etsy, finding a welcome audience and loyal following. Once her youngest had started school, she recognised the moment as 'now or never' and opened her shop in November 2019. Her jewellery is also stocked by National Trust Dorset, Bridport Museum and Collate in Axminster.
Wrixton-Smyth Creations started mainly with jewellery inspired by the Jurassic coast. Creating ammonites with minute detailing into earrings, rings and necklaces, encased in boxes with the name, age and location where the fossil was found, forged Claire's reputation. She then branched out into a Dorset Countryside collection, using sycamore seeds, acorns, leaves and ferns, collected during walks with her children. Alongside, on display are other items using her developed traditional skills as a silversmith and now goldsmith. Simple studs to mosaic and middle-eastern inspired designs, there also features a series of necklaces with a Colmer's Hill pendant, naturally.
Soon to be moving her family back to the house she grew up in, Claire anticipates recreating her childhood with her children. Splashing in the stream, smelling the hay in the summer, sitting on a golden bale together, watching the sun go down behind her favourite view.