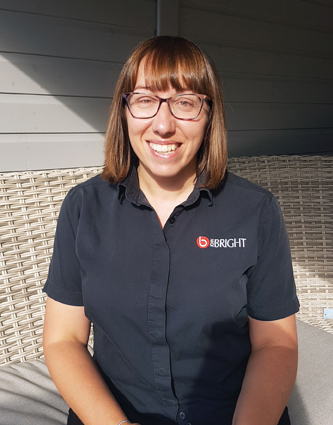 Beth Bright's parents, John and Bridget set up the company John Bright Fencing when she was born. Hoping for a better future John left his job in a meat factory behind and started working outdoors, gardening for others and doing some fencing work. Now, John Bright Fencing is the go to place for Bridport's fencing, timber and general agricultural needs. Situated in Salway Ash the store has everything from shooting gear to railway sleepers, garden furniture to pet supplies and poultry houses to sheds which are so sophisticated they look like a second home. This is Beth's world, one she grew up in, and one she now runs, alongside her parents.
Living next door to the shop site means Beth doesn't have far to travel. Her parents are also neighbours so the close family unit are united in more ways than work. With seven dogs between them, there's usually one or two in the back office area, keeping their owners company. In charge of all the purchasing required, Beth does anything that needs doing in the office when she gets in. Emails with order enquiries are answered and stock takes are carried out. And the business is a family affair in more ways than one, with a set of brothers working for the Bright's as well as a father and son. One loyal member of staff has been with them for 27 out of the 37 years they have been running.
Outside of work, Beth loves animal husbandry, in particular attending to her herd of Texel sheep. With fields in Salway Ash and Pilsdon Pen she transfers the sheep between the two depending on the time of year. Beth also has turkeys that she rears for the Christmas market and some pigs. Her husband, Jim Cook, has a farm with cattle he tends to in Ryall, so conversation round the dinner table often turns to farming related subjects. It was at a talk about sheep worming at Highlands End where the two met, they are now celebrating their seventh year of marriage. Today they are still attending meetings together such as the South West Simmental Club Committee meeting, squeezing in some time to spend in each other's company in their busy lives. As Beth is also on the Cattistock Hunt Skittles team, a committee member for Dorset Young Farmers 200 Club and Church Warden at Dottery Church, that's not such an easy task.