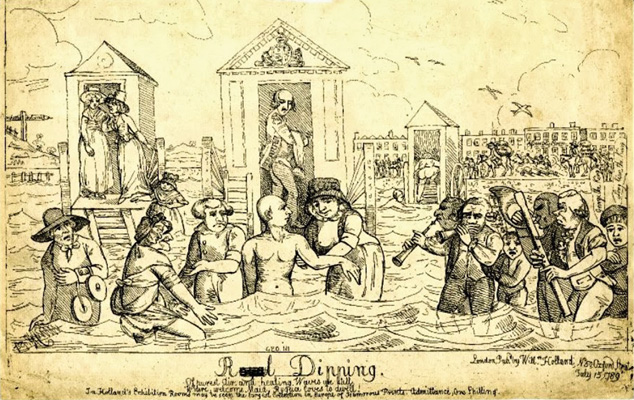 Of course, in Dorset it is Ilsington, whereas Islington is London. However I have frequently made the mistake as I did about 27 years ago, when the Chairwoman (I started to write Chairlady, but thought this could be misread as Charlady) of one of our local groups asked for a visit there. I discovered Ilsington to be near to Puddletown, which Thomas Hardy called "Weatherbury", near the Valley of the Great Dairies in his novel Tess of the D'Urbervilles.
We made a summer afternoon visit, by appointment, to Ilsington House, and discovered a sturdy manor house, once owned by England's first Prime Minister, Sir Robert Walpole and then passed to his son Sir George Walpole in 1751. Sir George did not marry. The estate then passed on to Horatio Walpole, fourth Earl of Orford in 1791, also a politician and a writer of gothic novels. When he died in 1797 the manor passed to his cousin, Horatio, Baron Walpole.
King George III started visiting Melcombe in 1789, until 1811, staying at Gloucester Lodge which had been built by his brother, the Duke of Gloucester a short time earlier. It has since been converted into an hotel and bar, on the esplanade, with a fine view over the sea front and across the bay. Melcombe and Weymouth were close together and both benefited from the royal patronage and now we tend to think of them as Weymouth. King George is celebrated on the sea front by a statue, together with a bathing machine, which he famously used to be transferred to the waters edge, when he bathed and presumably re-entered to dress in private, not far from Gloucester Lodge.
Hardy, in The Trumpet-Major describes how the George III reviewed his troops on the downs, with two Dukes and two generals on horseback, followed by two coaches, drawn by cream-coloured horses. The first coach held the Queen and three princesses and the second brought the two remaining princesses. Hardy writes, in dialect, the comments of the spectators, "There's King Jarge", "That's Queen Sharlett", "Princess 'Lizabeth", "Princesses Sophiar and Meelyer". Part of his retinue described was the Kings Equerry, Major General Thomas Garth, who leased Ilsington House and daily rode his horse from there to Gloucester Lodge to join his king.
When we made our visit to Ilsington House the guide showed us around the old manor house, with its rich wood panelling to see the paintings of past family residents, the antique furniture and ornaments. We probably had a cream tea, although the memory of that has long gone. Afterwards we were able to walk around the gardens, which matched the splendour of the old building and I have been reminded by a friend who was also visiting, that there were several sculptures made from willow branches. One of these, the largest, was of a "Withie Man" who straddled a path so that one walked between its legs.
During the tea our guide told us some of the history of the house and its people. One of the most interesting stories was about Major General Garth, which in retrospect was probably what several people were waiting to hear. He was not a tall man and had a "port wine" birthmark on his face.
One has to feel somewhat sorry for King George III, as he suffered from a hereditary disease, Porphyria, which made some refer to him as "mad King George", and he also had problems abroad. Some of his children misbehaved, in particular the Prince Regent, who became King George IV, but perhaps their father, George III, may have been partly responsible. It has been said that whilst in Weymouth if he had to leave them on royal business, he would lock them inside Gloucester Lodge and forbid them to go out.
King George III and his Queen, formerly Princess Charlotte of Mecklenburg Strelitz, had fifteen children. Their twelfth child was Princess Sophia Matilda, born on the third of November 1777. She was frequently left alone at Gloucester Lodge with Major General Garth. Despite his being thirty three years older than Princess Sophia, who was described as beautiful, she developed a considerable liking for Garth and one quotation said "She could not contain herself in his presence". Occasionally some of the young royals also stayed overnight at Ilsington House, en route for Weymouth, including the Duke of York and three Princesses, Mary, Amelia and Sophia. General Garth also frequently stayed at Windsor Castle when the King was in London.
During one of the King's absences from Gloucester Lodge it was rumoured that Princess Sophia gave birth to a boy. It was said that the Queen knew of the birth, but it was kept secret from the King and smuggled out of the Lodge and christened as a "Foundling", as Thomas Ward, in August 1800. The baby was taken to a tailor and his wife, Samuel and Charlotte Sharland who had just had a child. They were paid to look after him and told not to talk about the affair, but apparently they did. General Garth was paying the bills and when the tailor went to him directly the child was removed from them, taken to Ilsington House, adopted by General Garth and renamed Tommy Garth. He was taken to London and was sent to Harrow School and eventually joined the King's Hussars, Garth's regiment. He fell into debt and when he suspected the truth he asked General Garth, or the Palace to pay his debts. Presumably neither helped him. Tommy Garth married and had a daughter.
Locally there were rumours, from the midwife, the tailor and his wife and eventually stories reached the press and this made Princess Sophia's life difficult, although the King seemed to be in ignorance. I have a well rubbed halfpenny of 1816 and he looks undisturbed!
There was another suggestion, that the father of Princess Sophia's child might have been her brother, Ernest Augustus, Duke of Cumberland, who was very close to her and on one occasion kissed her publicly. Of course, this might just have been family affection, but tongues wagged.
Princess Sophia was always a frail child and late in life she became blind and it is said that Princess Victoria protected her.
In 2016, Dorset author Roger Guttridge produced a book Dorset—Curious and Surprising, including "Puddletown's Royal Secret", which covers basically the above subject matter.
In The Trumpet Major Thomas Hardy describes the excavation on the hill above "Overcombe" (believed to be Sutton Poyntz) by forty navvies of the chalk figure of King George III, wearing his cocked hat, on horseback. Hardy would be disappointed if he could see it now, as it is dirty and needs a good scrubbing, or rechalking. The King's face is not as brown as the half penny I mentioned, just a dirty yellow. The skeleton staff on the cruise liners in the bay must wonder what it represents.
Bridport History Society will meet on "Zoom" on Tuesday 11th May at 2 for 2.30 pm to learn from Photographer George Wright about his book Vanishing Dorset, with illustrations. Details from Jane Ferentzi-Sheppard on 01308-425710 or email jferentzi@aol.com.
Cecil Amor, Hon President, Bridport History Society.