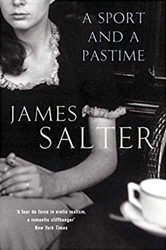 Marshwood Vale based author, Sophy Roberts, gives us her slim pickings for November
In my work as a travel writer, I've always been drawn to remote cultures and places. But sometimes, in searching out the places least familiar to Western dogma, I forget that the most alien cultures of all can be those we think are familiar. I, like many others, have spent the last four years wondering where everything went wrong for America. As the US presidential election looms, I've found myself turning to literature for hope—the classics over the contemporary (a refuge from the whirlwind of the present). This month, my slim pickings are all written by Americans. Their stories are not necessarily set in the US, but nonetheless remind me what makes America great.
The Hunters by James Salter is one of my all-time favourite books—the story of a fighter pilot in the Korean War. It's a little long for my slim pickings, so here's a quicker Salter read: A Sport and a Pastime. The story follows a Yale dropout, Philip Dean, as he pursues a provincial French girl. The erotic, obsessive narrative is fed through a voyeur: an older, impotent man, for whom the affair is part fantasy, part musing on the nature of relationships and romance. Interspersed with visceral sexual imagery come evocative whispers of 1960s France, with sunlight 'falling into its alleys like fragments of china', and 'the blue of autumn that touches the bone'. There's a deeper philosophy in Salter's writing too: after all, 'dreams… are the skeleton of all reality'.
Denis Johnson's Train Dreams catapults the reader into the American West at the turn of the nineteenth century, tracing the life of Robert Grainier, a day labourer in Idaho's forests. Just as Robert Seethaler's A Whole Life—which made last month's slim pickings—conjures up a startlingly vivid picture of a changing way of life, so too does Train Dreams unpick the frontier mentality of American expansion, and the rapid changes of the twentieth century. As the narrative flows through the rare happinesses and many tragedies of Granier's life, the spare economy of Johnson's language lays bare the consequences of change. This is a poignant book, the noise of a train moving through a burned-out valley, 'unable to wake this dead world'.
The Bluest Eye by Toni Morrison is about a young African-American girl, Pecola Breedlove, growing up in Ohio during the years after the Great Depression. The novel, published in 1970, deals with difficult topics including racism, poverty and sexism. With haunting, incisive prose, Morrison cuts to the heart of issues surrounding Black identity in America, with Blackness described as if one were given 'a cloak of ugliness to wear', with 'every billboard, every movie, every glance' supporting that misrepresentation.
Don't let the narrative simplicity of Seize the Day by Saul Bellow—a single day in the life of New York-based Tommy Wilhelm—dupe you into thinking this isn't an emotional rollercoaster. In his mid-forties, Wilhelm has been on the brink of chaos for some time: he is separated from his wife and children and temporarily living in a hotel, has a contentious relationship with his father, and is facing financial ruin. This is the day when things come to a head. As the novel hurtles towards its climax with supercharged intensity, I find myself being swept along, believing in bright beads of hope, despite inevitable despair. The lasting power of his message is tangible; we can only know the present, Bellow posits, 'like a big, huge, giant wave—colossal, bright and beautiful'.
J.D. Salinger's For Esmé with Love and Squalor is a short story based around a 1944 encounter between an American soldier stationed in Devon, a girl called Esmé, and her younger brother, Charles. The trio share a brief conversation; Ésme's precocious manner and small, 'oddly radiant' smile enchants the soldier. He explains to Esme he is a professional short-story writer (although not yet published), and she asks him to write her a story, one 'extremely squalid and moving'. The memory of the encounter, and a subsequent letter from Ésme, give the soldier a measure of peace as he suffers from battle fatigue in Bavaria during the weeks after VE Day. The intensely human rendering of Salinger's characters makes a masterful impression of innocent naivety against an ugly backdrop of war and division—as much a story for our times as it was for the post-war 1950s when it was first published.
Sophy Roberts is a freelance journalist who writes about travel and culture. She writes regularly for FT Weekend, among others. Her first book, The Lost Pianos of Siberia—one of The Sunday Times top five non-fiction books for summer 2020—was published in February by Doubleday.