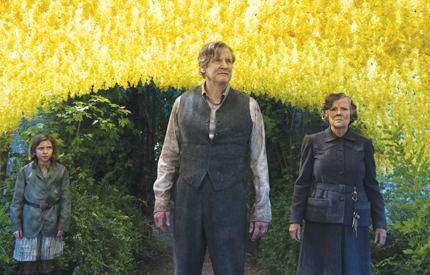 Go to the cinema. They are open again. The Plaza has reopened in Dorchester and so have the local Odeon and Cineworld cinemas. They all have COVID precautions in place and you will need to wear a mask. You just have to remember to breathe slowly during the scary scenes or your glasses steam up!
Death on The Nile (2020) is on general release. It is Kenneth Branagh's second outing as Agatha Christie's Belgium, not French as he continuously reminds the world, detective, Hercule Poirot. Fantastic cast list. It is filmed on location in Egypt so it could be the perfect escape from early onset of winter blues.
Second classic remake of the month is the release of a new adaptation of The Secret Garden (2020). This has been adapted by the go-to screenwriter of the moment Jack Thorne whose credits include A Christmas Carol and Harry Potter and the Cursed Child for the stage, Shameless, Skins and His Dark Materials for TV and Wonder, Aeronauts and A Long Way Down for cinema. The Producers are the ones behind the Harry Potter films and Paddington and know how to find great young actors. It looks like they have found a new star in 15-year-old Dixie Egerickx who plays the lead part of Mary.
Here are a few new digital releases to be watched from the comfort of your sofa.
Rebecca (2020)by Daphne du Maurier has been adapted for the screen numerous times most notably by Alfred Hitchcock. Late October 2020 sees the release of British directors Ben Wheatley's version on Netflix. I am eagerly looking forward to Kirstin Scott Thomas' interpretation of Mrs Danvers.
Black Box (2020) is the first of a season of horror films Amazon have made with the award-winning producer Jason Blum, who brought you Whiplash, Get Out, US and Black Klansman. Black Box has no reviews yet but looks well worth a look.
Relic (2020) available on Amazon Prime is the film of the month to watch if you really need to frighten yourself. A haunted house movie tackling the theme of dementia.
Casablanca (1944) on BBC iPlayer is however a real gem.
"This great romantic noir is still grippingly powerful: a movie made at a time when it was far from clear the Nazis were going to lose." Peter Bradshaw. The Guardian (2012)
If you have never seen it make a date to spend an evening with Bogart Bergman.
"Play it Sam. Play As Time Goes By!"