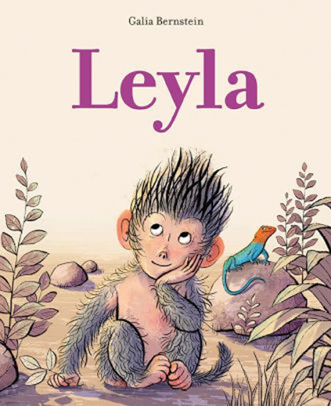 Leyla by Galia Bernstein
Abrams, RRP £11.99, Ages 3+
Reviewed by Antonia Squire

When a chimpanzee named Leyla gets overwhelmed by her family she runs far, far away where she meets a lizard who teaches her how to do: Nothing.
Like me, Leyla thinks that it must be quite easy to do nothing, but the lizard shows her a special way of sitting and a special way of closing her eyes that makes the sun move across the sky without her even noticing.
When Leyla says goodbye to the lizard and runs home to her too big family of mummy, daddy, aunties and cousins she tells them all about her exciting adventure far, far away. Her family may sometimes feel too big, and they may sometimes feel too loud for little Leyla, but when it all gets to be too much she now knows how to sit, and close her eyes and just do nothing until she is ready to join the fun and games again.
With gorgeous illustrations this is an adventurous book about mindfulness, without ever mentioning the word 'mindfulness'. Beautiful, fun and evocative, it's a perfect addition to any family library in these uncertain times.
The Haunting of Aveline Jones by Phil Hickes, illustrated by Keith Robinson. Usborne Publishing, RRP £6.99, Ages 8+
Reviewed by Nicky Mathewson

I do love a good ghost story and this fast-paced tale of a girl staying in an unfamiliar, storm beaten, coastal town on All Hallow's Eve, is deliciously creepy.
Aveline needs to stay with her aunt for a few days in the Cornish town of Malmouth which has a pretty ghostly past, what with a smuggler's cove and all. But the Halloween tradition of making a childlike scarecrow to adorn each garden is less familiar and very unnerving.
After buying a book of ghost stories from Lieberman's Second-Hand Books, a curious trove of many dusty tomes, she stumbles upon another girl's fascination with ghosts. A girl from the past whose mysterious disappearance is still unexplained. Primrose Penberthy once owned this book and what's more she kept a diary.
Using Primrose's diary, can Aveline piece the puzzle together to determine what happened to her? More importantly, can she find out in time to save her own life?
Phil Hickes has created an electric atmosphere full of tension and suspense with a subtle nod to Daphne Du Maurier. I simply couldn't put it down and it has become one of my firm favourites.
The Illustrated Child by Polly Crosby. HarperCollins, RRP £12.99, Ages 14+
Reviewed by Nicky Mathewson
To say that the old farm, Braer, is creepy would be an understatement, but for Romilly and her father it is a warm family home. Romilly's father is an artist, whose love for her is deep but sometimes concealed. Is he negligent in his paternal duties? Perhaps, but let's just say that he gives her a freedom and independence that would please any inquisitive child.
Is Romilly lonely? Without a doubt, but by chance she meets a girl from the village, Stacey, who could be a potential friend, but she's always pushing Romilly to step outside her comfort zone and something about their friendship feels amiss. Then Romilly's father has his first book published, a beautiful picture book depicting the adventures of Romilly and her kitten 'Monty'. That isn't all though, the book seems to hide in its pages many random clues, which apparently lead to treasure. Her father's success is tremendous, so he publishes more, giving the books all of his time and attention. However, the intimacy of the books and the prospect of finding treasure, brings unexpected intruders to their idyll at Braer. Romilly can't step into the garden without being confronted by strangers.
As she reaches her teenage years, the child in the book created by her ever distant father, is like a spectre that she cannot shake off. She has many needs and many questions about her absent mother, which he is unable or unwilling to answer. While others are seeking Treasure, Romilly is seeking truth. A sophisticated and enigmatic coming of age novel which is not all it seems.
A Special 10% discount for Marshwood Magazine Readers throughout November 2020 at The Bookshop on South Street, Bridport.