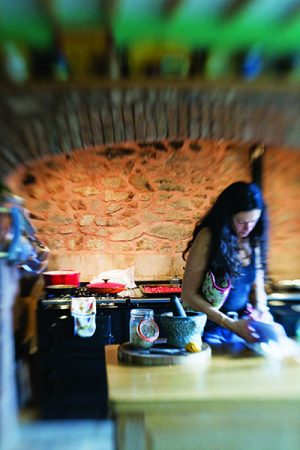 Tamasin Day-Lewis talks to Fergus Byrne
Tamasin Day-Lewis tells me she wrote her first novel when she was nine. She laughs. It was her first foray into the world of writing and she can't quite remember much about it. She has just sent the finished manuscript of a new novel to her agent and is inevitably nervous about how it might be received. Tamasin has already made two careers out of words. After spending fifteen years writing and producing films and documentaries she then launched a new career writing about food.
She doesn't divulge details of the content of her new novel, but if her book, Where Shall We Go For Dinner, published two years ago, was anything to go by, then there is much to look forward to. It was the story of a culinary adventure around the world, a tummy-rumbling blend of travel memoir and recipe book that showed both her sense of humour and adventure, as well as the driving curiosity that has made her one of the foremost cookery writers in the country.
The book came at the end of a long list of successful cookery books which had begun with West Of Ireland Summers: Recipes and Memories from an Irish Childhood. Although she grew up in Greenwich and brought up her children in Somerset, she sees Ireland as her real home. "I wanted to write a memoir about my childhood summers," she says. "And I suppose having lost a father early in life it was also recapturing all that." Her memories of Ireland are very powerful. She once called it a place that induces a 'semi-permanent carbohydrate-crazed appetite'.
Her latest book, Supper For a Song is subtitled 'For the clever cook in the cost-conscious kitchen', but Tamasin is quick to point out that it is not about cheap food. She says, "People were starting to write about thrift, and austerity and being frugal, and the 'three for the price of two' mentality. That's not what this is about. This is about having a banquet, about bounty, about doing it cleverly. I just thought that people were going up the wrong track with food. This is about the way that I like to eat."
She remembers how being in boarding school instilled a need to learn to cook in order to eat well. "I'm really a forager and a hunter-gatherer and I still have a student mentality. I don't mean getting things cheap. I have never believed in cheap food. But it's about getting the good ingredients. It's about getting the flavour of things and not spending the money."
She rails against the supermarket driven rush to buy food that simply shouldn't ever have been harvested. She says, "I think people just don't know how to shop. They buy too much. You're fighting against the two or three for the price of one offers, and the only reason the shops are selling them at that price is because they have bought too many and they are under-ripe – two of them are never going to ripen anyway. And people think they have got a bargain!" She points out that value and good cooking can come together with a little effort to maximise the wonderful taste produced by well thought out ingredients along with the purchase of just a few special quality products.
She offers a simple philosophy, "The thrift should take care of itself if you really understand what works and what doesn't."
Supper for a Song is a beautifully produced dance around the culinary senses with a splash and a dash of clever planning, and it should be a highly prized addition to any kitchen.
Published by Quadrille, ISBN 9781844007431, it is available at £20.