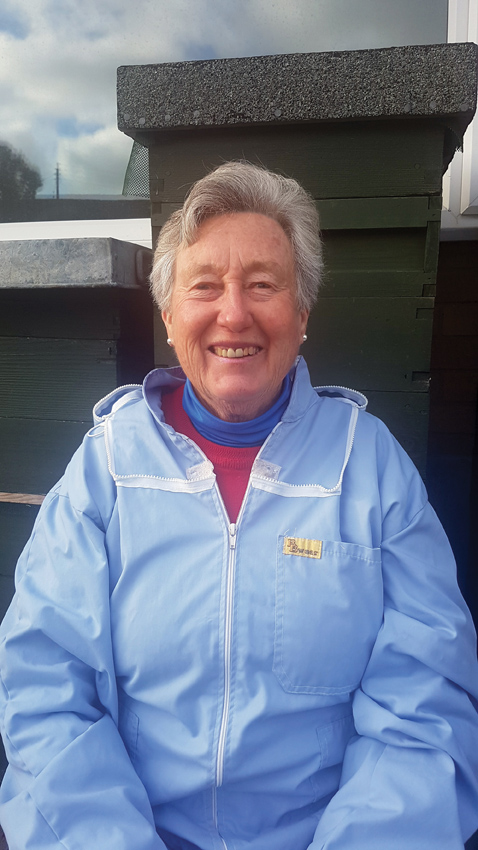 As a little girl, Carole Brown used to go with her father to tend to his bees, which he kept in Honiton. Many years later, in 1986, Carole took on her father's four hives and moved them to Bridport. She then attended the local beekeeping course to ensure she knew how to care for them correctly. Today, she is Secretary of the West Dorset Bee Keeping Association and also helps out with teaching the in-depth yearly beginner's course.
Now with 15 hives of her own, Carole is a knowledgeable apiarist. The honey from each of the hives, kept in three different locations, tastes unique as it is influenced by the local habitation, where the bees collect nectar and pollen. Still, a thrill to watch the bees, Carole also finds it therapeutic. She explains that as a busy person when she is checking on her bees, it is the only time she tends to stop. She clarifies, "You have to concentrate on the bees, watch their movements and do things slowly, you cannot rush, otherwise they will react to you. You also need to know why you're going into a hive so that they are never disturbed unnecessarily".
Each year the West Dorset Beekeeper's Association has a large marquee at the Melplash Show, the main showcase for the Association, where they sell their honey and related produce from their teaching apiary at Netherbury. Carole sells some of her honey and beeswax from her door, also to people who make products from it, such as Filberts. The majority of the honey though Carole sells through Fruits of the Earth in Bridport and from the shop on the Symondsbury Estate, where she keeps some of her bees. She also uses her honey if she has a cough, or in cooking and advocates its use for those who suffer from hay fever, the more local the honey, the better. However, Carole finds the very best way to eat honey is as she did as a girl, simply, on hot toast!