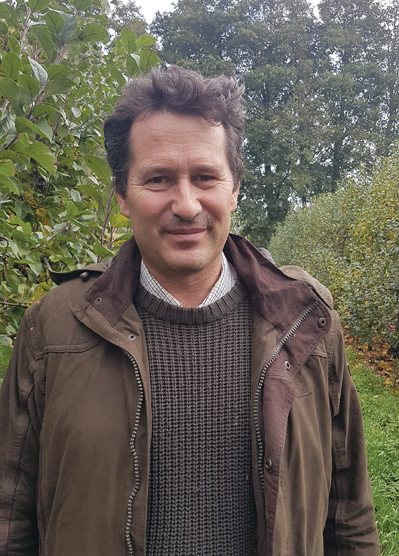 From the end of June to the middle of November if you need to find Jonathan Hoskyns he will most likely be out in the orchards harvesting apples, or pears, and maybe some plums too. Owner of North Perrott Fruit Farm, Jonathan starts the season by hand picking the eating apples, pears and plums, finishing with the cider apples using his machines. They shake the cider apple trees, raining fruit to the ground, for it to be gathered by the harvester. Since 1740 Jonathan's family have owned the land he farms and it was his grandfather who planted the first orchards after WWI. When Jonathan left home after studying horticulture at Writtle Agricultural College, he continued honing his knowledge for a few years working on fruit farms in Kent. Or, according to Jonathan's father "sent away to make his mistakes elsewhere," as he often used to joke.
Jonathan and his wife Anwen work hard to keep the family business going. Jonathan manages the farm and Anwen looks after the farm shop. They work six or seven days a week, often passing during lunch, which Jonathan pops into the farm shop café for, (grateful for the warmth at this time of year), as well as the homemade quiches, sandwiches and soups on offer. There are 45 varieties of apples grown on the farm, producing 30 different types of apple juice. Jonathan also presses apples for others, whether it be to make cider with or for personal consumption. Some of the eating apples can be found in Tescos and Aldi, in the English Apple section. Jonathan's favourite variety is Kidds Orange Red, although all the apple varieties can be discovered and tasted at the farm shop during harvest season, celebrated on their annual Apple Day.
A self-confessed Bridge addict, Jonathan plays two to three times a week. He finds it a relaxing hobby, "cheaper than golf" he grins, and is a member of both Crewkerne and Bridport Bridge Club. When he's not on the farm or at the bridge table, Jonathan attends local meetings and societies as a member of the Parish Council, NFU, Bath and West Show and various local fundraising committees. However, Jonathan uses his trump card to ensure a rare Sunday afternoon off at the same time as Anwen, spending time at the pub, or the cinema, or simply, just together.