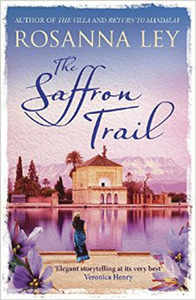 Following a link between Cornwall, Dorset and Morocco, Bridport writer Rosanna Ley's latest novel, The Saffron Trail, neatly fits the West Country into an exotic landscape. She talked to Fergus Byrne.
Like many of her readers, novelist Rosanna Ley develops a deep affection for some of her characters. Becoming an extended, transitory family they pop into her thoughts at the most unexpected times and occasionally their voices creep into her head, sometimes requiring her active participation. 'I could be walking along a cliff or something and these conversations are going on in my head' she says 'and if I have a notebook I try to write them down but if I don't then I try to push them away.' Her characters develop a life of their own as she sits in a café or on the beach, writing in longhand whilst imagining them going about their lives. They are often complicated lives that take both writer and reader to exotic locations, unearthing long-buried family secrets and unravelling mysteries that are colourfully illustrated by often burnished and brooding landscapes.
Rosanna's latest novel, The Saffron Trail, begins on the south coast of England in Lyme Regis and the Roseland peninsula in Cornwall, before moving to Morocco and Paris. Exotic cities like Marrakesh and the coastal walled city of Essaouira draw out long-hidden and often suppressed family riddles, whilst stories from different eras weave together creating surprises and a slow unthreading of knotted relationships. Rosanna is fascinated by people and how they see each other.
Sitting in the living room of her Victorian cottage near Bridport she cuts a striking figure with blonde tresses and deep brown eyes and in the light of an unusually warm spring day she explains how people and place are equally inspirational in her writing. 'I think it's because I like writing about relationships' she says 'whether it is family relationships or love relationships or whatever, I'm interested in how human relationships work.' She also likes travelling and the interlaced associations between the different characters in The Saffron Trail lend themselves to the myriad avenues offered by Moroccan souks. 'I was writing about these tangled relationships and that seemed to link in with the Medina in Marrakesh' she says, explaining that the labyrinth of alleyways and passageways mirrored the emotional and physical journey of some of those in the story. Part of the story is also set in a Marrakesh Riad, a house that on the outside appears insignificant but inside hides a courtyard surrounded by doors to hidden lives. 'It seemed to fit in with the kind of ideas I was coming up with' she says.
Growing up in West Sussex she remembers writing poetry when she was quite young. Pouring out teenage angst and what she recalled as 'raw emotions' onto the lines of a school exercise book she fed her active imagination with words and grew to love the process of using the language to convey her thoughts. 'It's the love of words, isn't it?' she says 'whether you end up being a poet or journalist or novelist or whatever.' The love of words and how they work in sentences drove her forward. She dabbled in creative writing but it wasn't until during her mid-twenties that she, somewhat accidentally, began to take it seriously. Deciding to have a go at learning pottery she found the local classes were full so elected to try a creative writing course instead. 'In a matter of days,' she recalls 'I was hooked'.
She wrote magazine articles, poetry, journals, anything she could think of and had her first article published in Mother and Baby magazine. It was about her four-year-old son who had decided he could fly. His unshakable belief was both funny and frightening yet it was a springboard that pushed her forward and it was an inevitable boost to her confidence to have it published. She later began to write short stories and in time attempted a novel written on an old manual typewriter. 'It was awful and never published' she admitted, but it was a beginning and in time her writing led to an editor suggesting she tackle something bigger and 'more meaty'.
Having originally planned to teach, she found herself being asked to run writing therapy and life-writing workshops for community groups such as victims of domestic violence and the working homeless. The experience inspired her to study for an MA in creative writing for personal development, which she was able to do whilst offering writing tuition at Sussex University. A book contract led her to stop teaching except for retreats and writing holidays in Spain and Italy, as well as closer to home in North Devon. At these, she helps both experienced and new writers to hone their craft.
Developing her own style and enjoying a genre that allowed her to travel and delve into her favourite subjects—people and places—she wrote a series of books called The Villa, Bay of Secrets and Return to Mandalay offering glimpses of lives in places as diverse as Sicily, Fuerteventura and Burma.
The Saffron Trail follows a similar track of lifting the layers from people's lives revealing fears and concealed histories. It was saffron that was the starting point. She explained 'I was interested in saffron and all the myths that are associated with it and how it is used in food etc.' Learning about Cornish saffron buns she researched its history in Cornwall which then led her to Morocco and introduced the characters that were to travel between the two places. The hippie trail, the Vietnam war and Jimi Hendrix's association with Essaouira all intertwined with the colours and smells of the North African landscape and the search for the origins of lives immersed in an exotic spice.
Despite her interest in colourful landscape and travel for research—the book she is writing at the moment is set in Cuba—Rosanna was drawn to Dorset even though it rained on her first holiday here many years ago. 'I fell in love with Dorset' she says. 'I just felt it was where I should be, it felt like my home.' The area has been inspirational and features in much of her work. 'Creative people seem to be very drawn to this area' she says. 'I really believe that certain areas really do draw people.'
With the pebbled beaches of West Bay only a short walk away, inspiration is never far and one assumes that somehow there will be a Cuban connection to somewhere on the south coast to sit alongside the Moroccan connection with Lyme Regis and the various coastal associations that Rosanna's wonderfully variegated imagination has already created.