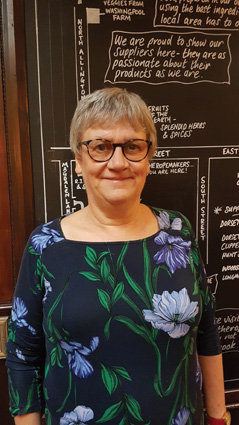 Twelve years ago Geraldine and John Baker went to one of their local pubs on a Sunday for a drink. Whilst supping over their beverages it came to light the pub was for sale. And so, they decided on a complete career change, duly becoming joint Landlords of The Ropemakers in Bridport. John claims, grinning, it's his job to get people through the door and Geraldine's to make sure they get served. The couple have made a great success of the pub, winning a plethora of awards over the years, weaving themselves into the very heart of Bridport's community.
Geraldine grew up in Bridport. She worked in customer support and had a number of jobs waiting tables before taking on the pub, so had a lot of experience dealing with people. Passionate about food, Geraldine enthuses about the suppliers they use. Originally she devised a map of Dorset to show how local all their suppliers were, but happily found she had to make it solely of Bridport, with a couple of exceptions. Offering a monthly cheese club, weekly quiz nights and three nights of live music each week, Geraldine doesn't have much time to sit down. A classically trained singer herself, punters occasionally get the added benefit of hearing her sing during the open mic night. As the couple live above the pub it is easy enough to pop down whenever they need to help with the evening's entertainment.
Taking advantage of having an in-house chef, the couple often have Sunday roast in the pub. However, most nights it will be either Geraldine or John cooking upstairs, as they both enjoy dabbling in a variety of culinary influences. On Geraldine's day off she and John will generally either go for a walk or pop out on the bus somewhere sampling other food haunts. They know the area intimately, as over the years they have walked pretty much every footpath together, armed with a packed lunch, using the time to brainstorm new ideas for the pub.
Still brimming with enthusiasm for what they have achieved, Geraldine admits that she and John couldn't run the establishment without their loyal team of staff. Ensuring she takes life just a little easier after recovering from breast cancer, and with John's Parkinsons a factor in their lives, they both enjoy showing what can be done, no matter what presents itself along the way.