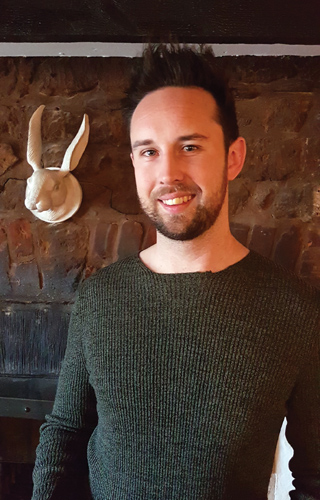 Jamie Smith spent his weekends with his grandparents in Chideock. He always found the village a great place to be. Little did he know, years later he would come to live there and be part of the heart and soul of the village, as landlord of The George Inn. Cutting his teeth in the catering business he did his work experience at The Green Yard café in Bridport and worked there full time when he left school. Growing increasingly enamoured with the food industry he then moved on to work for Highlands End before taking up work at The George Inn.
Jamie learnt the ropes and was living above the pub when the opportunity arose to take it on. As the son of an amateur musician who gigged around the Bridport pubs, Jamie was always taken with the idea of becoming a pub landlord, as he had watched through child's eyes the one person in the pub everyone wanted to be friends with. Years later, the notion still appealed and so Jamie became one of the youngest Palmer's landlords, running the 160 seater pub since 2015. He has put in the graft ensuring the pub thrives with both local and visiting custom. However, he admits he has no idea how he ran the pub on his own for three years since his girlfriend, Amy Day, has started helping him. With her own full-time job, Amy also looks after her daughter and helps him run the pub, often working late into the evening.
Tackling the summer trade with food freshly cooked to order is no mean feat, something he manages to deliver with his loyal 'Team George'. Jamie doesn't get much time away but does let off steam on the football pitch in Charmouth and at skittles once a week. Still passionate about being a landlord, Jamie is continuing to explore the pub's potential and further knitting himself into the fabric of the community he has come to love and know so well.