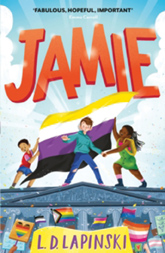 Jamie
By L.D.Lapinski
Published by Orion RRP £7.99
Reviewed by Nicky Mathewson Recommended
for Ages 9+
Meet Jamie Rambeau. Eleven years old, one older sibling, two best friends, two fairly supportive parents and one big problem.
So far Jamie's experience of school has been OK and with two best friends like Ash and Daisy, who wouldn't be happy? However, the three of them will be moving up to secondary school next term and there are two schools to choose from: Queen Elizabeth's school for Girls or St Joseph's school for Boys.
Not only do the three of them have to split up, but Jamie is non-binary, so where do they fit in a school exclusively for girls, or a school exclusively for boys?
With both head teachers unwilling to accept Jamie into their school as anything other than a girl or a boy and with zero parental support, Jamie is forced to take action into their own hands in order to have their voice heard. Along with Ash and Daisy they stage a protest to raise awareness of non-binary people which, as it wasn't exactly planned, goes a bit wrong. The result is a whole heap of trouble for the trio, but is it possible that they have drawn enough attention to their cause to make a change?
This book gets straight to the point and concisely delivers the message that society does not accommodate everyone in the same way and lots of people get overlooked. L.D Lapinski is a passionate author who knows how to spin a good yarn. Best known for The Strangeworlds Travel Agency series, L.D is really going to make waves with this book and I loved it.