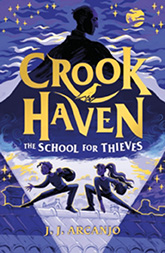 Gabriel Avery is 13 years old and a highly skilled pick pocket. If his grandma found out she'd flip, but he does what he has to do to keep them from starving. Grandma cleans for a pittance to keep them in the most basic accommodation and Gabriel has learned to fend for himself and help her as much as he can.
He often works his trade at the train station where he lives in Torbridge, Devon, and as he is picking a pocket one day he realises that his most beloved treasure has been stolen from him! The only thing Gabriel has of his parents is a blackened coin which he always carries.
He notices the man who's wallet he just stole has boarded a train and he is holding something up to the glass; Gabriel's coin!
Inside the man's wallet there is a note which reads "You're good. I'm better." On the reverse are some instructions which lead him to a remarkable school and a chance for a brighter future.
Crookhaven is a school for crooks who show true talent. The students are trained in all areas of criminality with the intention of doing good in the world. Each student is training to be a modern day Robin Hood.
However, all is not as it seems at Crookhaven and when students start to disappear, Gabriel and his new found friends have reason to be very worried. The mythical criminal underworld is starting to become a real threat.
This is the first in a new middle grade series, and is a fast paced, fun adventure with a wonderfully eclectic mix of characters. I loved it and can't wait to read about Gabriel's second year at Crookhaven.