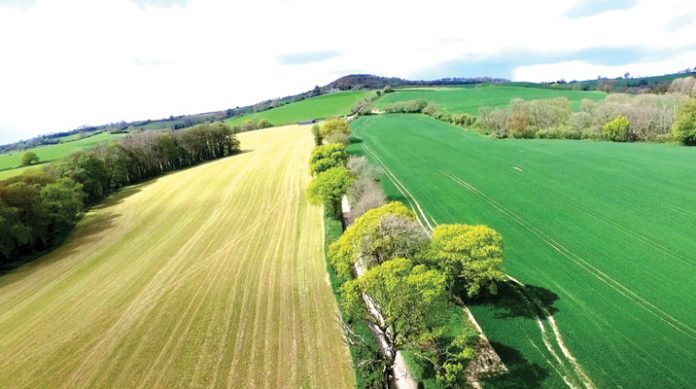 Filmmaker Lawrence Moore has made a new film celebrating the history, landscape and the people of the Marshwood Vale. He talked to Fergus Byrne.
A 'creative fusion' is how filmmaker Lawrence Moore describes life around the Marshwood Vale, the area that is the subject of his latest film. Talking about the fascinating mix of skills, artistry and craft practised by the people within its community, Lawrence says, 'whether it was knowing how to plough a field; shape a piece of plum wood; extemporise lines of poetry; or just express feelings artistically in oil or watercolour', the Marshwood Vale is alive with people 'deeply involved with the landscape through their professions and love of the area.'
Three years in the making, the film The Vale, is a celebration of our place in nature and it is to have its premiere at Bridport Arts Centre in September.
The feature-length film introduces us to an eclectic range of those that live in the Marshwood Vale. Amongst them, George Streatfeild at Denhay Farm outlines the geological structure of the vale and why the soil is ideal for dairy farming, yet points out the 'iniquitous' situation where supermarkets offer milk at a cheaper price than water to attract customers—something that causes 'a huge amount of pain across the entire industry'; mole catcher Peter Brown strides the hill above Stoke Abbott setting his traps, and although he says he keeps threatening to give it up, he loves his job. He believes that getting paid to walk the fields and hills is far healthier than paying to go to the gym; artist Veronica Hudson makes her own charcoal before setting out to produce preliminary sketches. She compares the preparation of her images with the preparation of land for growth. Veronica sees her connection with drawing as a connection with nature.
Wood craftsmen John and Martin Hazell turn local wood into bowls, plates and baskets, producing hand-carved spoons and tableware as well as hurdles, gates and garden furniture. John points out that there is a lot of small non-commercially viable woodland in the vale and that it has always been worked by man. 'It's essential that we carry on working that woodland' he says. 'The wildlife will be there, it's been there for thousands of years with man working in the woods, and it'll continue. It won't continue in the same way if we don't work those woods.' Describing it as having an 'ancient' and 'otherworldly feel' he sees the Vale as a mixture of 'traditional families and alternative types.'
And all the while buzzards glide above majestic trees, dragonflies gad about with bees, moths and garden birds, while beautifully filmed drone footage delicately reminds us of the rich heritage of food production that the Vale has represented for centuries.
But life for traditional families is changing. Dairy farmer Paula Johnson discusses the changes she's seen over the years, while Shaunna Knight of the Marshwood Young Farmers Club talks about the need for young people to know more about the importance of farming, and where their food actually comes from. John Creed remembers thirty to forty
farmers making a living in the Vale when he was growing up. 'Now, I suppose there's no more than five' he says. Thatcher Dave Symonds also bemoans the loss of community as many homes are left empty for much of the year. While Martin Huxter, from a family that has farmed in the Vale for many generations, sees his children turning away from farming to seek careers as architects or doctors.
Written, directed and edited by Lawrence and co-produced by his wife Shirley Booth Moore, The Vale takes us on a journey through a landscape that, despite living through many changes, has retained a strong sense of its place in English heritage. The film is produced with a wonderfully old-fashioned documentary style that helps create a sense of the Marshwood Vale being somehow suspended in time. Interspersed with the music of multi-instrumental trio Three Cane Whale it rolls gently through the seasons with beautiful photography and overhead drone shots that open up the Vale with a bird's eye view.
And like the charabancs that John and Audrey Creed say were once common around the lanes, the film gathers its mixture of participants to relay their stories along the way. 'We wanted to show the beauty and variety of the natural landscape together with some of those we met in our wanderings around the Vale' said Lawrence.
It is undoubtedly a labour of love. Brought up in Wales, and then moving to London, Lawrence had always wanted to return to the countryside—to live amongst nature and those who make a living from it. As a filmmaker it was necessary for him to remain in the city to earn a living, but with the digital world beckoning, and pensioner status offering less stress, the opportunity to make his own films from start to finish at home had always appealed to him.
The pace of The Vale has been helped by the amount of time available to make the film—something that Lawrence enjoyed after a lifetime of chasing deadlines. 'It was a relief to come to West Dorset and to take our time to reflect on what we saw, who we met, and how and why we wanted to record all these ideas' said Lawrence. 'We have funded this film entirely on our own resources.' He says they could have applied for rural grants but didn't want to be beholden to anyone. 'Also it allowed us time to develop ideas, film on odd days, waiting for the light, and events, and to be more relaxed with those who agreed to be filmed. The film became more of a celebration of the Vale rather than an informative exposition.'
And despite Lawrence's background as an environmentalist—his first film Can Polar Bears Tread Water? is now thirty years old—The Vale is not a soapbox. Although he touches on, for instance, the damage to soil with crops like maize, he holds back from preaching, instead concentrating on gentility and history of people and place. However, that doesn't mean he is not fearful for the future of the area, and of our land in general. He and Shirley believe that the Vale could face many problems, not only of an environmental nature. 'The land degraded through over-use of artificial fertilisers; the demise of small farms and the growth of agri-industry, but also with the lack of any public transport' he says. 'John and Audrey Creed told us about the charabancs and buses that used to run regularly every day through the Vale. Now the only buses one sees have the sign 'Not in Service' as they career down the Broadoak road.'
But as we move into the future, as social patterns change and more people want to move into the countryside, Lawrence says 'the Vale is fragile, and although it is officially an Area of Outstanding Natural Beauty, who knows whether this will remain in perpetuity? The Vale is crisscrossed with many open paths and bridleways and we also need to be mindful of protecting these public rights of way.'
Many of those lucky enough to live in the Vale wake to a morning melody of birdsong for much of the year. And as they listen to the sounds of cattle and sheep in the fields and the hum of insects as they scurry around the hedgerows, they feel blessed. They enjoy an endless selection of autumn mists illuminating the ancient history of what was once deep woodland—while sunlight and sunsets bathe the countryside in a thousand colours and winter rain sweeps the landscape, transforming the spectacle by the minute. In the meantime, throughout the seasons, trees across the Vale offer an ever-changing selection of dance moves. One day enjoying a gentle lazy waltz, the next jostling together like teenagers in a festival mosh pit.
The Marshwood Vale has seen many changes over the centuries and will see many more, and despite our fears for the future there is a present that is here to be enjoyed. Lawrence expresses it well saying: 'The whole environment is a surprise, from the tiny winding lanes; misty low lying hills; massive numbers of tractors with teenage drivers; ploughing contests; a cider farm in the middle of nowhere. The Vale is a surprising and quite unique place, and although it has this slightly mournful quality, where echoes of the past somehow seem omnipresent, it is very much alive.'
Lawrence Moore's film The Vale will be shown at Bridport Arts Centre on September 16th at 7.30 pm For more information and to book tickets telephone 01308 427183 or visit www.bridport-arts.com.