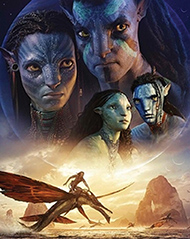 Plaza Cinema Dorchester
Avatar: The Way of Water (2022) is the follow-up to Cameron's 2009 sci-fi blockbuster which remains the highest-grossing film of all time. It stars Sam Worthington, Zoe Saldaña and Sigourney Weaver, and is set more than a decade later than Avatar.
I Wanna Dance with Somebody (2022)
Directed by Kasi Lemmons ("Harriet") from a screenplay by Anthony McCarten, the writer behind biopics such as Darkest Hour and Bohemian Rhapsody, the film has Naomie Ackie playing Houston, the late iconic R&B singer whose hit song inspired the title.
The Electric Palace Bridport
The Banshees of Inisherin ( 2022)
'Like In Bruges, The Banshees of Inisherin is a dark movie that is often downright hilarious.'
Uproxx. Mike Ryan
The Lost King (2022)
'Like so many of Stephen Frears' films, The Lost King works because of the compelling cast on hand.' Collider Ross Bonaime.
Amazon Prime
Easy A (2010)
A breakout film for Emma Stone. 'It's a funny, engaging comedy that takes the familiar but underrated Emma Stone and makes her, I believe, a star.' Chicago Sun-Times. Roger Ebert.
Mubi
Talking About Trees (2019)
This poignant and witty documentary focuses on four directors whose careers were stalled by a military coup thirty years ago… Talking About Trees follows their mission to reopen a neglected outdoor movie theatre near Khartoum. What unfolds is a rather lovely poetic portrait of male friendship, cinephilic obsession and elegant dignity. The Guardian. Cath Clarke