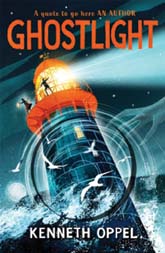 Ghostlight
by Kenneth Oppel
Published by Guppy Press.
RRP £7.99
Recommended
by Antonia Squire
for ages 9+
When Gabe takes a summer job guiding tourists around the island lighthouse, he happily invents ghost stories to intrigue the visitors. All in fun of course, Gabe doesn't believe in ghosts. Right up until Rebecca Strand makes herself known to him on his latest visit to the lighthouse.
100 years earlier Rebecca and her father, the lighthouse keeper, die in mysterious circumstances. Their bodies found on the rocks below with no explanation of how they both fell to their deaths.
Rebecca needs Gabe's help to find the Ghostlight to finally destroy a malevolent spirit that grows ever stronger and threatens to turn all living things into lost souls. With help from both the living and the dead, Gabe and Rebecca set off on a terrifying adventure to save humanity.
Fun and creepy, this is a heart pounding good adventure perfect for readers 9+. I loved every moment of it, and it's perfect for Halloween!