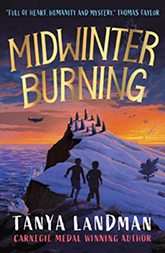 Alfie doesn't know who his dad is, which is really hard when you're just a lad in 1939. Harder than it is nowadays anyway. September 1st, 1939. Germany has invaded Poland and Britain and France have declared war on Germany. Alfie Wright is standing on a London station platform with thousands of other children waiting to be evacuated to the countryside. He has his case and his packed lunch, and he's quite looking forward to making a fresh start down in Devon. Just his luck though, his main bully from school is heading to the same village and how is he supposed to start over with Billy Figgs around?
Alfie's new home is a haven for him. Auntie Bell brings him to her farm and set's him about helping with the chores. Nothing too hard, just milking the cow, feeding the pigs and the chickens, leaving him plenty of time to explore the fields, the beaches and the standing stones on the hilltop. The Standing Stones where the village celebrates The Midwinter Burning every year. Legend has it the pagans used to offer a human sacrifice to the gods at the Midwinter Burning, but that's just superstition according to Auntie Bell. These days it's just a bit of a party, like Bonfire Night.
Time, though, is slippery around the Standing Stones and when Alfie makes a new friend, a strange boy named Snidge, he starts to questions whether the legend is more fact than fiction as the dangers around The Midwinter Burning come a little too close for comfort.
A moving tale of a young boy who needs to be displaced in time and place to find his true home. Rich in adventure and historical detail, I loved this middle grade novel.