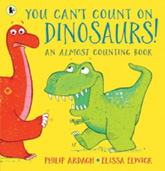 Picture Book
You Can't Count on Dinosaurs! An Almost Counting Book
by Philip Ardagh and Illustrated by Elissa Elwick
Published by Walker Books RRP £7.99
Review By
Antonia Squire
Everybody knows how counting books go—one, two, three, four—all the way up to Ten. But poor Philip Ardagh is having a terrible time getting his dinosaurs to behave. One is Rex (this might be where he went wrong—Rex has very big teeth and very small arms). Two is Patty (a very large dinosaur with a long neck and long tale). Three is Brian (so small and cute). Four is—Oh No! Rex ate Brian—we're back to two. Ok, fine, moving on—Three is Steggy and then we have Four, Five and—No Rex—don't eat Steggy. It's OK Steggy, you're fine. Six, Seven, Eight…
The real question for this amazing counting book is how many dinosaurs will it take for us to have 10 dinosaurs?
Silly, funny and perfect for all dinosaur lovers—I even bet your little ones will be able to name all the types of Dinosaurs when they meet Rex and Friends!
Middle Grade
The Last Bear
By Hannah Gold and Illustrated by Levi Pinfold
Published by Harper Collins
RRP £7.99
Review by
Nicky Mathewson
April Wood is 11 years old and she has a deep affinity with animals which she does not have with humans. She doesn't like school, mainly because she has no friends, and spends most of her time in her back garden watching a family of urban foxes. Her mother died when she was 4 and she lives with her father who is a scientist; researching weather patterns and spending most of his time working.
It is because of his research that the two of them find themselves travelling to Bear Island in the Arctic circle to assess how global warming is affecting the ice caps in the region. Part of an archipelago called Svalbard, Bear Island used to be home to polar bears and April is hugely disappointed to learn that they no longer live there. With the ice caps melting, they can no longer reach the island.
Oh well, at least 6 months on an uninhabited island with her dad will mean they can spend time together, have adventures together, reconnect. However, her father has to monitor the weather station constantly and doesn't recognise his daughter's need and desire to spend time with him.
Disappointed, April decides to explore the island alone and after hours of walking hears a strange guttural sound, definitely an animal, possibly in distress, and much to her surprise and delight, there is a polar bear in the distance. He is thin and scruffy, clearly in trouble somehow. When April gets a clear view she sees that the bear is injured; one of his paws is swollen and tightly bound with plastic and fishing net.
Determined to save him, April begins the most important journey of her life…
The Last Bear is like a warm embrace on a cold evening. With stunning illustrations by Levi Pinfold, it completely enveloped me. It made me smile and it made me cry. Hannah Gold has treated us with an unforgettable story which is very timely and shows us that no matter how small, we can all make a difference.
I loved it!!
Teen
Loveless by Alice Oseman
Published by Harper Collins
RRP £7.99
Review by
Nicky Mathewson
Loveless takes us on a profound and turbulent journey into adulthood and self-discovery. Alice Oseman peels back the facade of fitting in, to reveal to the reader that our true identity can sometimes surprise us.
Georgia Warr and her best friends; Pip and Jason, are off to Durham University and are feeling a mixture of emotions about what to expect.
Georgia is a dreamer, she loves romance, from Disney to fanfiction, the idea of love and romance fills her mind daily. However, she feels a void in her life, she doesn't have a boyfriend or girlfriend and she has never kissed anyone (which apparently is weird to most other people). Georgia thinks she wants to, but the right person just hasn't come along, and when the opportunity arises for her to kiss Tommy, who is very cute, she can't go through with it.
After a series of badly misjudged attempts to find love, Georgia takes some bad advice and seriously jeopardizes her friendships. Fortunately, she stumbles upon the Pride Society and in doing so questions her own sexuality. Georgia discovers that she is aromantic asexual and is terrified about what that will mean for her future happiness. Coming out is painful, and she needs her friends, can grand gestures repair what she has broken? Can she accept who she really is and can platonic love be enough?
Oh my goodness! This book kept me up all night and had tears streaming down my cheeks. I was feeling everything that Georgia was going through and I found it such an important read that I really wanted to share it with everyone. Loveless is bursting with real people, amazing friendships and so much love. It's thoughtful and moving and eye opening for anyone of any gender or sexual orientation.
Simply fabulous!
Suitable for 15+ Contains explicit content.