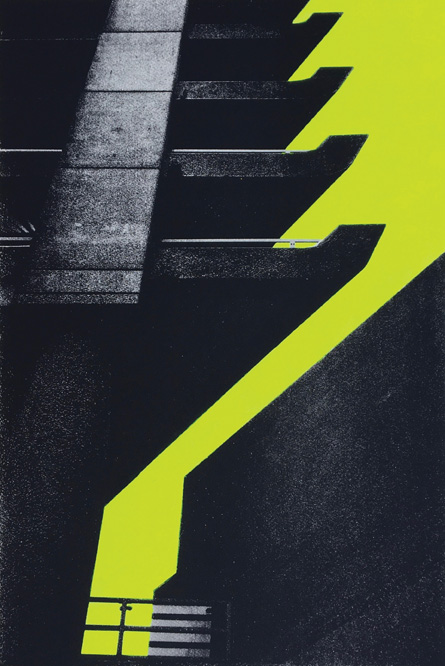 Devon artist Richard Kaye talks to Fergus Byrne
Despite there being no shortage of 'lockdown' blogs on the internet the full results of the last few months of enforced isolation will probably take decades to unravel. In the early days, with a rush of enthusiasm, many people predicted an enormous surge in creativity. There's no doubt that happened for a lot of people, however many writers and artists who had expected an opportunity to produce volumes of work were surprised to find that wasn't the case. Some writers particularly found it difficult to be creative and the same story came from many artists and makers. That expected burst of creativity just didn't come—not for everyone anyway.
However, Ottery St Mary based artist Richard Kaye is one of those that found the process productive. As a print-maker, with no access to the machinery, he needed to produce his work he had a change of focus and a welcome return to painting and drawing. 'Painting and drawing tend to be the go to mediums for artists in that situation' he said. With the studio he uses in Exeter closed he wanted to work in a medium that was naturally comfortable to him. He wanted to be quickly up and running instead of thinking too much about any complex working structures. 'I wanted something that was going to be simple to get straight into the creative zone with,' he said 'so I picked up some canvases and brushes and that was something that I could start making marks with straight away, whereas with something like a screen-print, it's much more planned.'
For Richard that immediacy allowed him to explore and develop a theme of abstract landscapes that he had already been working on over the last few years. Some of it was work he showed in his last exhibition but realised they weren't actually finished. 'So I carried on painting on top of them for a while' he explained. 'I would say most of the painting work reflects the local area. All the paintings I have done are very similar in that the subject matter is abstract landscapes that take on that cubic geometric form, with quite bright colours and a subdued greeny-blue sky feel – quite a tranquil sky.'
Despite being more urban the landscapes complement the other work he will be displaying in an exhibition at The Malthouse Gallery in Lyme Regis from mid-August. A fan of Brutalist Architecture, Richard also recently completed a small series of drawings focusing mainly on stairways. These images tend to be very bold and distinctive, with some of the more urban subjects being somewhat unexpected. Richard takes pleasure in finding strong compositions and angular forms within subjects which are often missed or ignored. Turning these images into highly detailed and intricate prints was the basis of his introduction to printmaking.
In the last few year's Richard has started to work on a larger scale, with screen prints which he hand-tints using watercolour. The colours he is using now have moved away from the more subdued pastel tones toward a brighter complementary range as well as neons. These images are really angular, edgy and bold. The neon ones even inspired Richard to start a streetwear clothing brand '2_Brutal'.
Trained at Bournemouth College of Art, Richard has had a varied career that has occasionally veered away from art. Apart from a stint as a chef at the Alexandra Hotel and time making false teeth in Axminster he also spent a year as a DJ travelling the world with Indie band Ash. 'But the one thing that's run through my career is my need for creativity in some way shape or form, whether it's art or music' he said. 'Art has always been there. I've had periods where it has slowed down but if I had to go on a journey there's no way I would go on a train without having a pad and pen with me. I'd walk up and down the train looking for people who've fallen asleep and I'd use that as an opportunity to do a life drawing.' He has a series of drawings called 'sleepers' that he hopes may fit into the upcoming exhibition.
The upcoming show at the Malthouse Gallery, though varied in medium, clearly shows that he has a love for strong compositions and compelling use of colour. Following on from his first very successful show at the gallery in 2018, this sees a growth in confidence and a very refreshing show with striking architectural emphasis.