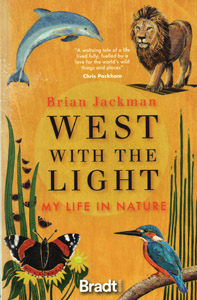 One of the early memories that Brian Jackman relates in a recently published book about his life is complaining that he had been chased by a pet tortoise in his garden. It's a story that caused much mirth amongst his family and no doubt a certain amount of embarrassment for him. Thankfully, for the rest of us, he managed to outrun the tortoise and go on to become one of Britain's most distinguished wildlife travel writers.
His book West with the Light; My Life with Nature has been published by Bradt Guides.
Although he grew up in the Surrey suburbs, in the book Brian dimly recalls the 'Edwardian London' of his parents – 'a gas-lit world of sulphurous fogs and reeking chimneys, of clanging trains and cobbled streets'. His childhood included spending hours with his 'nose in a book' and listening to Children's Hour on the Bakelite radio. Being allowed to stay up late to listen to Monday Night at Eight was a treat and he remembers staring into the embers of the fire 'imagining dragons and monsters in the glowing caves between the coals, while my father baked potatoes in the hot ashes under the grate'.
However, Brian's early childhood, like that of so many children, was interrupted by the war. He remembers how bombings were 'commonplace' and how for a young child 'there were treasures to be gleaned from the previous night's raids in the form of shrapnel'. If you were lucky he recalls 'you might pick up the brass nose of an anti-aircraft shell' or 'the shiny fins of an incendiary bomb.' After two years of war he contracted scarlet fever and had to spend six weeks in quarantine, confined to bed for most of it.
After his recovery he recalls that although Nonsuch Park, the playground of his youth, was a good starting point for learning about bird's nests, frogs and newts, it wasn't until he first visited Cornwall that he really appreciated the countryside. Closing his eyes he can remember a 'moorhen's scarlet sealing-wax beak, the yellow irises, the bubbling stream' and 'the ever beaconing sea.'
Thanks to Hitler's bombs Brian was eventually evacuated to Bude with a gas mask around his neck and a small suitcase containing all his belongings. During those days living on a farm it was the senseless cruelty of a badger kill that he believes may have been the catalyst that set him on the road to becoming a conservationist. After his return home he realised that the nearly two years that he had spent there had awakened 'a love of all things wild.' He writes 'It was, I suppose, an unhappy time for an eight year old, all alone and far from home, but its magic haunts me still.'
Back in January 2013 we featured Brian in this magazine in our cover story series where he talked about some of the highlights of his life; his dreams of being a professional footballer; his time in National Service and the Navy; playing in a skiffle group in the Royal Albert Hall and the start of his extraordinary career with The Sunday Times. Now West of the Light: My Life in Nature fills in the fascinating details along with much more of what we learned from that feature. His fascinating, engrossing and endearing story is filled with memories of larger than life people such as Joy and George Adamson, Kenneth Allsop and Sir Harry Evans 'the greatest editor ever' as well as many larger than life animals.
Brian Jackman's West with the Light: My Life in Nature ISBN 9781784778361
is available from www.bradtguides.com and good bookshops.