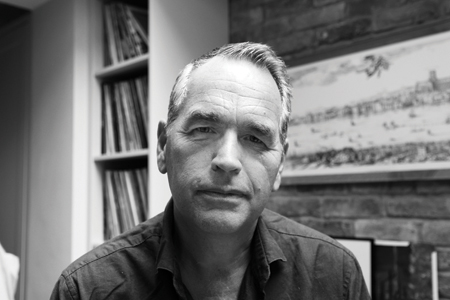 In Seth Dellow's audio interview with Lee Elliot Major, the country's first Professor of Social Mobility, Lee remembers his time as a dustman working for the council. He was earning money to get through college and recalls how he spent a lot of time dwelling on 'societal issues' and thinking about life. He also remembers how the people he worked with on the dust cart were 'bright' and 'generous'. Despite initially finding some of them 'quite challenging' he worked hard and in time they became proud of the fact that this youngster was going to university, even gathering a selection of discarded items that they thought he might find useful. He says it was a tough job that at his age now he would find hard to do, but it offered valuable life lessons. 'I learnt things like resilience, sticking at something, learning how to manage people' he says.
Today, as the country's (and possibly the world's) first Professor of Social Mobility, appointed by the University of Exeter, he has become a global leader in the field. His work is dedicated to improving the prospects of disadvantaged young people. He tells Seth how he feels he has been obsessed with the concept of social mobility most of his life. Despite studying for a PhD in Theoretical Physics, at heart, he says 'I was always a secret social scientist'. His niche area is 'how to improve the prospects of, particularly, the disadvantaged young people'. He says that 'Britain has very low social mobility compared to many countries, and indeed, the South West has particular challenges'.
One of the many issues that Lee discusses with Seth is the gap created by those with the advantage of having parents who can pay for private tutoring. 'We've seen a huge boom in levels of private tutoring' he says. 'But what's interesting is that that now exists in universities as well as schools.' He calls it 'the escalating arms race of education.' It's a situation where he believes exam results may not be the indicators of talent. 'Richer parents' he explains, 'are investing ever more money and time into their children's education and the worry about that is, that means they pull further and further away from children that don't have that background.' Increasingly, he believes, 'A Levels are as much a signal of someone's background, how wealthy they are, as their academic ability. So for universities, it's quite hard actually now because you've got to try and identify talent wherever it comes from. And I don't know if you can just rely on A-Level grades now.'
Lee did his degree in Sheffield and is very aware of how much location impacts social mobility and opportunity. 'When I go back now to Sheffield, I'm shocked by how different Sheffield is compared to London' he says. 'London has just boomed. You look around London, the wealth in London, it is one of the wealthiest cities in the world. Sheffield on the other hand, and I think to a lesser extent this still applies to somewhere like Exeter and indeed the South West more generally, has suffered over the years and there just isn't as much money going into these places.' He sees a 'huge exacerbation' in the wealth divide.
He is also aware of the gaps in the 'levelling up' agenda which has always been presented as a North-South divide. Whilst he agrees there is an enormous need to level up opportunities between North and South he is pushing for the South West to be part of that narrative. 'When we looked at the data' he says, 'what we found was the South West has some of the poorest outcomes for disadvantaged pupils.' He says it also has 'one of the poorest rates of university entry for young people.' One of the problems, he believes, is that because the South West is 'one of the most attractive, possibly the most attractive region in the country', it is a place where lots of people want to go away for holiday and to buy second homes. 'Yet that kind of obscures the levels of poverty in the South West.'
As a keen vinyl collector Lee travels to find records, so is very aware of differences in local areas. 'I go to charity shops in Paignton or Torquay or market towns and it's quite shocking when you go' he says. 'I think we suffer from poverty blindness in this country, particularly in places like Westminster and Whitehall. They don't know what really exists in places like the South West or the North East.'
The pandemic has, inevitably, made things worse. However, we are only at the tip of the iceberg. Although the government are putting some money into education it is nowhere near enough. Lee explains: 'I would say they could probably do 10 times more than they are currently doing. And if you don't address these issues for the under 25s, I think you store up huge problems for society, for later decades.'
He fears a point will come where people will have had enough. 'Some people have predicted that there will be an unravelling in society. If we don't address these profound inequalities, at some point, maybe we will have some sort of uprising. Because people will get to a point where there's nothing to lose. What stake have they got in society?'
Prior to his post at the University of Exeter Lee Elliot Major was Chief Executive of the Sutton Trust and a founding trustee of the Education Endowment Foundation. The Sutton Trust is the country's leading foundation trying to improve social mobility. Prior to that he was an educational journalist and has written four books on education and social mobility. In his interview with Seth, he also talks at length about the complexities of social class and some of the strategies that could be utilised to bring about meaningful and valuable change—reforms that would benefit society as a whole rather than just a levelling up. He would like to see education that is not only academically focused. He says: 'If we could create a credible vocational offering that was connected to jobs in schools, in apprenticeships that had as much money and status as the academic routes, I think that would be a huge thing for social mobility.'
He believes there are a number of initiatives that government should be looking at to help create effective and beneficial balance. Funding may need to come from a wealth tax and changes to inheritance tax and he would like to see programmes to help parents understand the benefits of helping children with basic numeracy and reading before the children start school. He is really interested in what he calls a 'cradle to school' service. 'Everyone talks about catch-up, but schools are in the catch-up game from day one.'
Asked how politicians can achieve substantive policy on social mobility Lee suggests an independent body should be created to develop a 'long term, steady policy.' Although there is a Social Mobility Commission within government he would like to see an independent organisation that would 'scrutinise what government is doing' and suggest long term strategies. 'Recovering from the pandemic is going to take years' says Lee. 'So this would be a body that would outline long term planning and you'd have to have some accountability around that.'
Seth Dellow's full interview with Lee Elliot Major is available to listen to on the Marshwood Vale Magazine website.
Visit www.marshwoodvale.com.