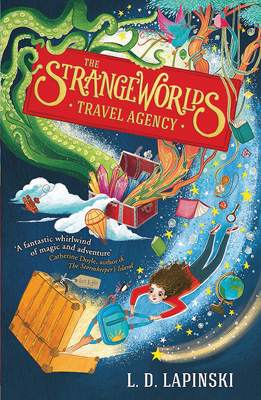 Picture Book Review
The Rock from the Sky
by Jon Klassen
Ages 4+ RRP £12.99
A picture book of five short chapters, The Rock from the Sky gives us a snapshot into the life of a tortoise, an armadillo and a snake, unknowingly facing the existential threat of a falling rock and possible alien invasion. Klassen uses his minimal style to create gratifying suspense and illustrates the stubbornness of friends perfectly.
It would appeal to children and adults, and if you liked the Hat trilogy, you will love this philosophical delight. It is pure deadpan comedy, and had me and my son laughing right from the start.
Middle grade reviews
The Strangeworlds Travel Agency
by L.D Lapinski
Ages 9+ RRP £6.99
Twelve year old Flick has moved with her family to a new home in a new town. She will soon be starting a new school and she is not at all keen on the idea. On a walk to discover more about her new and ever so boring surroundings, she stumbles across The Strangeworlds Travel Agency. It is a very rundown looking shop but conversely, the sign is bright and inviting, luring her inside.
She meets Jonathan, guardian of the Strangeworlds society, who is not at all easy to get along with and very confident and persuasive. It transpires that his father is missing, and he persuades Flick to join him in his search across the multiverse. Neither of them have any idea what dangers await them, and how important Flick will become to the future of one world in particular. Can they save it before it disappears completely?
I absolutely adore this fun packed and fast paced adventure. Flick is warm and sensitive and Jonathan is a very satisfying blend of Doctor Who and Sherlock Holmes and I love them both. This is a superb middle grade, science fiction adventure, where suitcases provide portals to other worlds and magic holds the universe together.
The Strangeworlds Travel Agency: The Edge of The Ocean
by L.D Lapinski
Ages 9+ RRP £6.99
After becoming a fulltime member of the Strangeworlds Society (unbeknownst to her family) and earning her own Looking Glass which enables her to see the magic around her, Flick has been grounded for the whole summer and is desperate to get back out there into the multiverse.
As luck would have it, Jonathan persuades Flick's mum that she can do some "work experience" at the travel agency and so mum agrees to her spending one day there.
A surprise visitor and a magic telegram arrive at the Agency on the same day as Flick and someone needs their help. Another world is in danger of extinction and the Society members need to be quick if they are to save the ocean world and all its inhabitants before the day is over. More magic is disappearing which is unsettling Flick and she makes a world-shattering discovery about her family history.
I was blown away for a second time by L.D Lapinski's writing and was smitten with the diverse characters that she has lovingly created.
Teen Review
Burn
by Patrick Ness
Ages 13+ RRP £7.99.
Published May 6th.
Imagine a world where dragons walk among humans, where cult cells of "Believers" worship these dragons, worship the Goddess; the Creator. Add to this a cold war between America and Russia and an assassin, who will stop at nothing to fulfil that which he has been training for all his life.
Burn is a remarkable and surprising story full of tension, twists, wonderful climaxes and wholly believable characters.
Patrick Ness is a superb writer who never fails to satisfy my need for a seamless blend between high fantasy and representational YA fiction. He has really hit the mark with Burn. I loved it.
All reviews by Nicky Mathewson at The Bookshop in Bridport.
10% off RRP of these books for Marshwood Vale Readers at The Bookshop, 14 South Street, Bridport DT6 3NQ.