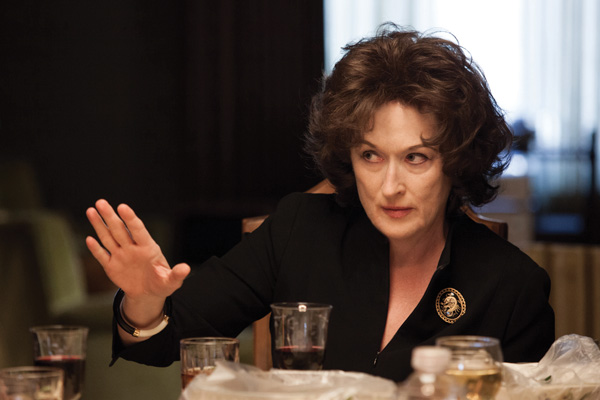 Netflix
August: Osage County (2013)
Whilst this adaptation of the award-winning play retains its indoor stage setting, it is packed full of wonderful performances led by Meryl Streep.
"There are no surprises, just lots of good old-fashioned scenery chewing in August: Osage County director John Wells' splendid film version of playwright Tracy Letts' acid tongued Broadway triumph about three generations in a large and highly dysfunctional Oklahoma family." Variety. Scott Foundas .
The Woman in the Window 2021
This film's release was delayed twice last year. No reviews available but adapted from the best-selling novel by A J Finn with a script by Tracey Letts (August: Osage County) and directed by British director Joe Wright (Darkest Hour. Atonement.)
"Amy Adams stars in this psychological thriller with Gary Oldman, Julianne Moore and Anthony Mackie." Netflix
Amazon
Mad Max (1979)
"Junky, freaky, sadistic, masochistic, Mad Max has a perverse intelligence revving inside its pop exterior. It's a crazy collide-o-scope, a gear-stripping vision of human destiny careening toward a cosmic junkyard."
Newsweek, Jack Kroll
Milk (2008)
Harvey Milk was the first openly gay man voted into public office in the United States, holding a seat for District 5 on the San Francisco Board of Supervisors in 1977 after 4 attempts.
"Sean Penn never tries to show Harvey Milk as a hero, and never needs to. He shows him as an ordinary man, kind, funny, flawed, shrewd, idealistic, yearning for a better world."
Chicago Sun-Times Roger Ebert.
Moonrise Kingdom (2012)
Wes Anderson's films have their own style, and this is another quirky tale from a very original film director.
"A very charming, beautifully wrought, eccentric but heartfelt, and thought through to the tiniest, quirkiest detail in the classic Anderson style."
The Guardian, Peter Bradshaw.
BBC
The Elephant Man (1980)
A new 4K restoration, with both picture and sound overseen by director David Lynch, starring Anthony Hopkins and John Hurt.
"The film shows how Joseph Merrick found an advocate in Dr Frederick Treves. Sadly even 150 years later in today's so-called sophisticated world people who look different still need those champions."
James Partridge. Founder of the charity Changing Faces.
"One of the most moving screen dramas of the 20th century"
BFI. Mark Kermode.