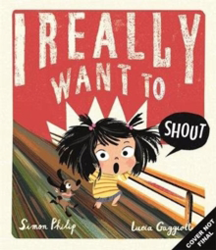 I Really want to Shout by Simon Philip
Illustrated by Lucia Gaggiotti
Templar Books RRP £6.99 Ages 3+
There once was a little girl who really wanted the Cake, and then she really wanted to win. Now she really wants to Shout because things aren't fair, and people are mean and it's all just too much. But shouting only makes us feel better in the moment, and often makes things worse. Fortunately, a friend who makes her laugh and a Dad who gives her a cuddle and helps her figure out what she can do instead of shouting makes everything ok again. Almost!
Any picture book requires two elements to make it a pitch-perfect family favourite—vibrant, evocative illustrations and readability (tick and tick)! Lucia Gaggiotti's illustrations are fast and furious—perfectly reflecting a little girl who lives life on the edge of her emotions as Simon Philip's story gallops ahead—it is an absolute thrill to read aloud.
The Monsters of Rookhaven by Pádraig Kenny
Illustrated by Edward Bettison
Macmillan Children's Books £12.99 Ages 9+
What are Monsters?
When Tom and Jem run away from their abusive uncle they survive for a time by stealing and conning their way into digs. But eventually, people become suspicious and the next time they run Tom is sick and the car they have stolen runs out of petrol on a deserted lane in the middle of nowhere. Ever a bit of a blagger, Tom strides towards the strange circle of light in the woods and then through this tear in reality, forcing Jem to follow him. As they make their way up a path towards a large house, they just notice that the flowers are moving towards them before they are entangled and the heads of the flowers come for them bearing razor-sharp teeth! Terrified, they are rescued in the nick of time by a young girl, Mirabelle, but Tom, illness creeping, faints the moment they enter the house, leaving his little sister at the mercy of these strangest of strangers.
Kindly, Mirabelle insists that her family help them, despite Tom and Jem are from 'Outside'. They are taken to a room, and a doctor from the nearby village is called. Tom is to stay in bed for at least a week with food and medicine, Jem is shown around by Mirabelle, with only one word of warning—she must never leave their room after dark—it's too dangerous. For the house they have stumbled upon is a house filled with Monsters, shapeshifters from another plane with special abilities, talents and a taste for raw meat. All except Mirabelle, an orphan born in the house rather than arriving by less ordinary means. Jem is terrified as she begins to discover the truth about the denizens of this strange place, but also strangely comforted by their kindness and understanding. Mirabelle and Jem become friends, learning about each other and meeting others from the village who are like Jem but bring those at the house supplies according to an ancient treaty.
So, who are the monsters? Those who take in and care for strangers despite their differences, or those who sow discord, mistrust and anger. This is a stunningly beautiful allegorical tale, rich in language, imagery and adventure. More than that though, it helps all of us understand what it truly means to be human.
The Left-Handed Booksellers of London by Garth Nix
Gollancz Publishing RRP £18.99 Ages 14+
Technically this is being published as a 'grown up' book but Garth Nix is famous for his brilliant YA Abhorsen series and it has tremendous crossover appeal, so I'm slotting it in right here—it's that good!
Set in an alternate reality, 1980s London, the Left-Handed Booksellers are Authorised to Kill…and sell books. The Right-Handed Booksellers are also a thing, they take care of research and development (and are of course, far better and their day jobs than the loose cannon Lefties).
We begin our tale in the west country, in a run-down cottage by a river near Bath. Susan Arkshaw is just embarking on a summer in London before Art School. Ostensibly her goal is to find a part-time job (slightly hard to come by in Thatcher's London ca 1983) while her real goal is to find out who her father is, and maybe even find him. Her Mum's always been a bit vague on the subject of her dad, but then again, her Mum's always been a bit vague on most things.
She begins her search at her 'Uncle' Frank's place, but on her first night, as she is planning on creeping away, she hears a disturbance. She enters the room to see a very young man prick Frank with a hatpin making him dissolve. She's just trying to wrap her mind around that when she is strongly encouraged by Merlin (the young man with the pin) to follow him out the window. Things get weirder and weirder as the night progresses, ending in a police station where she is questioned, and then put up in digs so she can be 'protected' by the Booksellers—of which Merlin is an aforementioned Left-Handed one. Danger awaits Susan at every turn as she delves deeper into the world of booksellers, goblins and fey.
Weird, funny, creepy and a bit sweary, this is a fantastic urban fantasy adventure by a master of the craft. Highly recommend.
All titles 10% off at The Bookshop on South Street for Marshwood Vale Magazine readers.