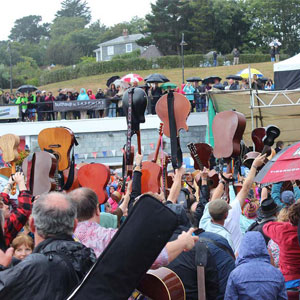 After a gentle morning basking in the Bridport sunshine, participating in The Bridport Hat Festival – undoubtedly one of the South West's wackiest festivals – an afternoon on the beach at Lyme Regis may have seemed an obvious choice for a bit of post-preening R&R. However that wasn't the reason that a specially hired bus disgorged a motley crew of guitar and ukulele clutching Bridport residents onto a dusty Lyme Regis pavement on that same sunny Saturday afternoon in September.
There was a record to be broken and it wasn't the 'Most Consecutive Table Tennis Ball Bounces Using Acoustic Guitar as a Paddle, Using One Hand' record, which is apparently held by American Brian Pankey. Nor was it an attempt to beat the 'Longest Headstand While Playing the Guitar' record, currently held by another American who goes by the name of Tai Star. The record to be broken in Lyme Regis that day was a far more serious and social affair.
Organised by Lyme Regis resident and former Paul McCartney Press Guru, Geoff Baker, the task was to bring enough guitarists together to create Britain's Biggest Band and break the record for most guitarists playing the same song together at the same time. The date chosen was the day that Buddy Holly would have turned 77 had he still been with us, so the choice of song was easy. Buddy's popular Rave On was not only a classic song to pay tribute to one of the great rock 'n roll legends of our time but it was also a simple three chord tune that could get even the beginner guitarist involved.
Once the date was set and plans were put in place, there was every hope that a trip to the popular seaside town would be a favoured option for people from all over the country. As it happened people turned up from as far afield as Germany and the USA. Arriving in Lyme Regis on September 7th opened up a spectacle that went beyond the heart-lifting feeling that a first glimpse of the sea usually brings. Even in inclement weather that first sight of the ocean has a tendency to put a smile on one's face but on this particular September day, with a bright blue sky and the sun glinting off nearly surfable waves in Lyme Bay, the vista, as welcoming as ever, had one unusual feature: at least every third or fourth person seemed to be carrying a guitar. On the best of days in any town you might occasionally see someone carrying a guitar, but as we descended the hill into town there were small groups, couples and lone guitarists everywhere. Guitars, ukuleles, banjos and mandolins of all shapes and sizes were being retrieved from car boots, motor homes and motor bikes. Lone cyclists appeared from alleyways with guitars strapped to their backs and tell-tale instrument cases conjured up images of a mobster convention. There was even a Beach Boys moment when a group of three guitarists dressed for the beach leapt from a car laden with surf boards and looked as though they may suddenly break into 'Surfin USA'.
As it happened the need for swim wear was short lived. Whilst the throng of players gathered on the beach listening to local band Half Jack with special guest Andy Scott from The Sweet, ominous clouds hid behind Langmoor Gardens waiting for a suitable moment to pounce. That moment came when local boy Billy Geraghty, who played Buddy Holly in the West End show Buddy, set up his band alongside his brother Sean for a rehearsal of the big moment.
Everything is a blur from there. Six year-old Darci Street sang Somewhere over the Rainbow. The heavens opened and a powerful hail storm soaked the attendant throng. Organiser Geoff Baker used an uncannily Woodstock like voice to try to keep the crowd together. 'This will pass… this will pass… I promise you this… there I said it would pass…' Over 2200 guitarists played Rave On, not once but twice and then again at 5pm to make sure everybody got into the record. It's hard to remember the exact order but suffice to say it was a moment to treasure. There's nothing like a bit of weather drama to bring everyone together, and afterwards, as soaking guitars were wiped dry and those that didn't want to stay for the after party drifted off, there was a real sense of achievement and no shortage of those keen to do it again.
There is no reason why an event like this shouldn't be repeated. Whether it's Guitars on the Beach, Flutes on Eggardon or Tin Whistles over Portland Bill, if the will and enthusiasm of people like Geoff Baker can be supported, we can all look forward to more magic moments in the future.
Photographs by Ismay Byrne