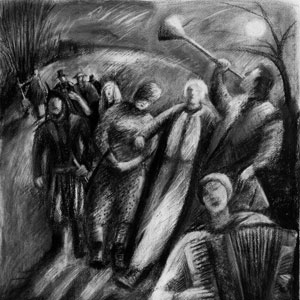 As Big Draw Month approaches a series of drawing exhibitions and events are set to take over Bridport Arts Centre. Megan Dunford has been to visit an exhibition curated by David Brooke.
Having previously been to the first drawing exhibition curated by David Brooke in the Allsop Gallery in early 2012, I expected nothing but interesting pieces by carefully selected artists', and I wasn't disappointed.
The exhibition features a dynamic range of draughtsman, all with varying styles and approaches to drawing. The real appeal for me was being able to view artist's sketchbooks accompanying the finished pieces on the walls, giving an insight into how the selected exhibitors think through their pieces before developing them.
David's skills as a curator and ability to verbalise his thoughts on how the show came together were apparent when I attended the curators talk in the Gallery, on Saturday 28th September. Fear not if your missed this one, David is holding another talk onSaturday 5th October at 2pm. Of course the best thing about attending events like this is that each one is different, and depending on who is attending, each talk can go down a different path and open new themes to discuss.
He explained how the artists weren't given a brief, but were selected for the richness of their drawing and it's true to say I struggled to find a piece of work that wasn't truly engaging in its approach to the subject depicted. As David talked us through the gallery and highlighted several pieces exhibited it was fascinating to learn about the habits, work patterns and motives of some of the artists.
The term 'Drawing' has become increasingly broader over the last 10 years and as art grows and expands, so do the boundaries of what drawing can be. The materials present in the exhibition, although used differently between each piece, still fall into a traditional category.
Perhaps I would have liked to have seen some pieces that challenge the notion of what drawing can encompass; but after walking around and touching upon this issue in the talk, it became apparent that the exhibition wasn't designed to question this and this could be a theme for a separate exhibition within itself.
What the exhibition does do really well is exposes the mindset of the artists involved and grants the viewer an insight into the way they approach the world, their subject, and their surroundings;
'A natural means of understanding and unravelling the material world around me.'
Caroline Ireland (featured artist)
The exhibition celebrates what drawing can be and how it can allow artists to take time to think.
I came away from the exhibition, visually stimulated and ready to get back drawing. If you're in the grips of a creative block or if you just want to take a moment to see how the fantastic space that is the Allsop gallery has been transformed once again with a new set of work, I thoroughly recommend that you visit the Exhibition or better yet the talk!
What a fabulous way to start Big Draw month off!
Megan Dunford
Drawing: The visual representation of thought is on until Saturday 19th October, in the Allsop Gallery, Bridport Arts Centre. David Brooke is holding a second curators talk on Saturday 5th October at 2pm.
All works are for sale in the exhibition and there is a catalogue to accompany it, priced at a reasonable £5. For more information click on the links below:
https://www.facebook.com/DrawingTheVisualExpressionOfThought
http://www.bridport-arts.com/events/drawing-visual-expression-thought-second-thoughts/