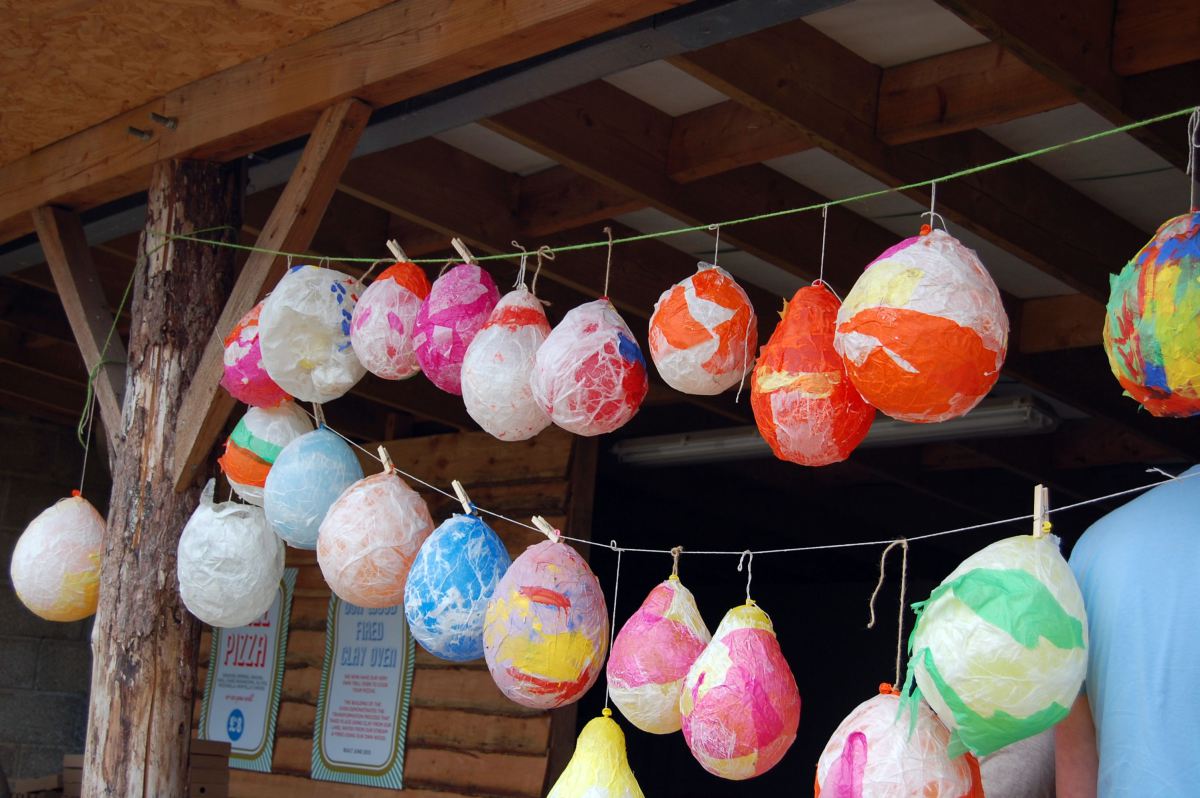 Farming, food and family fun were the themes of the weekend down on Trill Farm during this year's annual summer festival.
Situated just outside of Axminster, this countryside location was home to around 500 guests, tempted by the promise of a 'back to nature' experience, many of whom camped for the entire weekend. Now in its fourth year, on offer were a variety of activities, from willow weaving to felt making, circus skills to African-inspired drumming classes.
The whole farm was laid bare for visitors to wander through, each turn leading to something new. The rolling hills of this 300 acre West Country setting was a breathtaking sight, the fields delightfully spotted with tents, yurts, tipis and flags, paraphernalia indicative of a festival. Walking into the barn one could stumble into a forum discussion on the prevalence of consumerism in society, and then walk out the other side to see children getting their faces painted, or playing cricket. Along each path there was something different for adults and children, the whole area emitting a relaxing atmosphere.
Saturday did see some rain but the spirit of the festival was certainly not dampened. Anything on the bumper programme which was being held outdoors was quickly moved into a dry area, with the quick thinking of organisers ensuring nobody was disappointed because of the weather.
Dusk on Saturday evening saw the beautiful night time procession, using the lanterns guests had made during the day. This culminated in a fire sculpture by the lake, created by one of the UK's foremost theatrical artists. It was a dazzling spectacle which those present will fondly remember when they return home.
Food was a big part of this festival, an unsurprising factor as it took place on a farm which holds sustainable farming and nutritious food as core elements in its ethos. The aim of Trill Farm is simple when it comes to food. Using organic principles for all produce, they "work in harmony with nature to create an abundance of both cultivated and wild food" which can then be shared at the festival, and there certainly wasn't a lack of choice.
The courtyard café served a range of meals and snacks, from brunch to supper, sweet and savoury. According to the organisers of Trill Summer Festival, "food we eat connects us to the soil and brings us together in both a joyful and meaningful way". This was evident from the menu options for the revellers, with Merguez sausages, fava bean cakes, Trill shep
herd's pie, roast vegetable lasagne, Red quinoa with red onions, garlic & cherry tomatoes, and saffron barley pilaf.  A great selection of food: colourful, seasonal, fresh and delicious.
As if that wasn't enough of a feast, elsewhere on the farm freshly made pizzas were available, cooked in their new clay wood-fired oven throughout the day and evening. For those seeking liquid refreshment the bar was well stocked, serving organic beers, ciders, wines and cocktails, as well as flavoured popcorn – an unexpected treat.
The Trill Summer Festival managed to get the balance right on the mark: a full programme of things to do but plenty of time and space for relaxation. There were things for adults to enjoy, things for children to enjoy and things for families to enjoy together – a simple, but by no means basic, chance to take stock and enjoy life.
Words and pictures by Benjamin Parker.