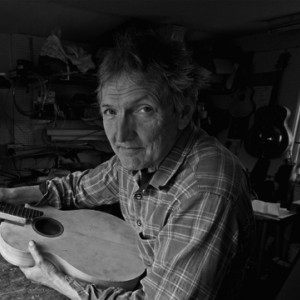 In workshops throughout the world, inspirational craftsmen and women have been developing complex skills to create beautiful furniture. From elegant chairs and tables, to distinctive cabinets, desks and beds, their carving, sanding, tonguing and grooving has added both function and beauty to our lives. No less inspirational and fascinating is the world of the luthier, the maker of stringed instruments. Fergus Byrne visited Lyme Regis based musician and luthier, Marshall Stapleton, who is electrifying an ancient craft.
It's fair to say that we live in a world where much is taken for granted. Milk comes from the shop, electricity from a switch, water from a tap and music comes from the stereo – or nowadays more likely a computer or iPod. However music, as most of us know, comes from a huge range of different instruments and finding out what makes these different instruments work was what started Lyme Regis musician, Marshall Stapleton, on a unique adventure in wood. He had played a guitar since he was 13. "Months of pleading with my parents was rewarded with a cheap and extremely nasty second hand plywood Spanish guitar", remembers Marshall. "The thick and slightly rusty metal strings were about half an inch from the fret board until I thought of lowering the bridge, thereby rendering it playable. In retrospect this was a moment of epiphany."
Fifteen years and a lot of cheap guitars later, he had another moment of epiphany when he managed to buy a second hand Martin guitar – one of the top American makes. Although the experience of having an exceptional guitar helped him enjoy playing more, it reinforced his quest to find out what makes an instrument so good. So not only did he try to find out, he decided to try to make one. Enrolling in evening classes, he started to build a steel-string guitar under the tutelage of master craftsman Sam Palmer, famous for his Hurdy Gurdys.
During this time he came into contact with George Hinchliffe, a muti-talented musician who had hit on the idea of forming a band playing only ukuleles – not at all hip in 1988. Marshall played with The Ukulele Orchestra of Great Britain for a time and was inspired to begin making ukuleles. He made what must have been the first Flying V ukulele, modelling it on the Gibson electric guitar, much loved by the heavy metal fraternity. Today cheap, Chinese made copies of Marshall's rock 'n roll uke are all over the internet. He admits it's not an easy shape to play and is really just a bit of fun. "However now of course the ukulele scene is massive," says Marshall. "It has become the people's instrument, a reaction maybe to the greedy so called music business and soulless expensive modern technology. Groups have sprung up all over the world bringing people together to play these charming mini guitars."
Marshall continues to build musical instruments in his studio in Lyme Regis, making mostly tenor ukuleles, a bigger instrument, tuned the same but with more scope for a serious musician. "Many guitar players are discovering the ukulele has a serious side and is an instrument in its own right" he says. "I feel proud to have had a small part in its renaissance and long may they pluck!" He has also recently built a special electro-acoustic guitar which is to be sold at Axminster Music in Axminster. Marshall can be contacted on 07941 619676.