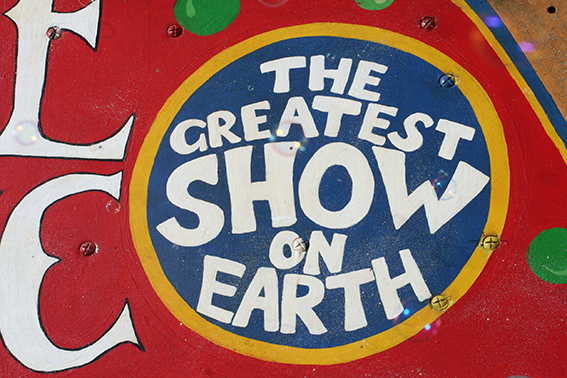 On the one hand Camp Bestival is a land of bubbles, flags, fairy wings and Mr Tumble; a place where the 'Pimp my Trolly' garage competes with face painters, glitter sprayers and fancy dress gurus. As well as the traditional fancy dress there are prizes for the best dressed girl's and best dressed boy's trolley, not to mention the best 'random trolley décor'. Giants wander the fields on stilts while Blue Coats entertain with Pom Poms and holiday camp cheek. Children squeal with delight and exhaustion in equal measure and for a good sixteen hours each day the countryside immediately surrounding Lulworth Castle throbs with a sea of human energy – it's a bit like a single living organism intent on squeezing out every last drop of enjoyment from the last hours before the earth disintegrates.
On the other hand the fields that make up Camp Bestival could also be likened to a giant stage that vibrates to the sounds of dozens of different musical offerings; great swathes of people are seen waving, clapping, singing, screaming and most importantly grinning like chimpanzees at a slightly unhinged, though lavish tea party. Until the sun goes down the focus is very much on family entertainment, but that doesn't mean it's all aimed at the under twelve's. There is no shortage of excuses for parents to embarrass their children in broad daylight by showing them how mummy or daddy used to 'rock' when they were young(er). "Hold Mummy's drink darling and watch this… oops!"
The Camp Bestival line-up may not be likely to attract hard core festival goers but one suspect's that perhaps that's the point, and this year there was still a wealth of musical genre to entertain fans of every age. Although the festival atmosphere starts when campers arrive on Thursday morning, the music on the main stage doesn't crank up until Friday and after a long hike from car parks to camps, anyone not set up by Friday lunchtime was likely to miss out on some of the early entertainment.
With the Castle Stage, the Big Top, the Bandstand and Pig's Big Ballroom all offering live music at the same time it is impossible to see everything. Highlights on the Friday included Reggae legend Max Romeo in the Big Top and The Proclaimers on the Castle Stage. Dreadlocks swaying around the stage, Max Romeo, who first tasted fame in 1966, is a seasoned Reggae maestro who put in a mesmerising performance. Flanked by sax and trumpet to his right and backing singers to his left, he prowled the stage punctuating pulsating versions of War in a Babylon and Three Blind Mice with shouts of 'I love you too' and 'Jah Rastafari'.
Cut away to the Castle Stage and the Proclaimers strode out in their traditional dress down jeans and t-shirts. No face paints or fairy wings for Craig and Charlie Reid as they launched into a set that showcased a clutch of favourites which included the obligatoryLetter from America and the crowd pleasing I'm Gonna Be (500 miles). They were followed by I Am Kloot, Billy Bragg and Richard Hawley on the main stage, while John Cooper Clarke happily lost the plot in the Big Top. As Richard Hawley offered a poignant Tonight the Streets are Ours, the ridiculously talented French singer and guitarist, Benoit Viellefon, tuned up his orchestra for a swinging set in Pig's Big Ballroom.
Anyone could have been forgiven for calling it a night after that, it had been, after all, a solid twelve hours of distraction. But for many the party was just starting and the Bollywood stage competed with the outdoor Disco Shed, Wagamama's Lounge and the Wedding Party Tent, to dance the night away. Earplugs and exhaustion may have been a fine antidote to a crying baby in the next tent but if that didn't work there was always tequila for the hard core.
Day Two saw more of the same and the set up provided by an extraordinary array of food in the YBF (Young British Foodies) tent was definitely a highlight, especially for anyone interested in moving beyond bacon baps and hotdogs. The YBF tent is not necessarily for the faint-hearted, but anyone with an interest in food made with imagination was in for a treat. It wasn't all heat and spice: smoothies, waffles, rotisserie chicken, pizza and strawberries and cream competed with Risotto Balls, Gourmet Chorizo, Wild Game and even Schnitzel. Grant Hawthorne's African Volcano Peri Peri sauce served over fried eggs and a farmers' sausage, added a flavour sensation to a breakfast washed down with Chase Distillery Bloody Mary. Perfect matching as the Bloody Mary was also made using African Volcano. Coffee from the Sidecar Coffee vendor also proved a festival favourite.
But breakfast, lunch and dinner timings at Camp Bestival were in constant shift as entertainment pulled people in so many different directions. There was no time for lunch as LA-based rocker Lissie played songs from her album Back to Forever on the Castle Stage. The infectious new single Further Away (Romance Police) was a highlight. She was followed later in the afternoon by home-grown talent Gabrielle Aplin who stole the hearts of thousands. Playing incredibly accomplished songs such as Panic Cord,Home and Please Don't Say you Love Me from her new album English Rain, as well as covers of Fleetwood Mac's Go Your Own Way and Frankie Goes to Hollywood's ThePower of Love, the confidence and talent in someone so young was moving and could have brought even the most stoic reviewer to tears. Another US import, Tennessee native Valerie June brought her own unique flavour of Delta Blues to the Big Top and then it was time to catch Grandmaster Flash wow the crowds at the Castle Stage. Comments ranged from 'awesome' and 'spectacular' to one little nipper who spent the rest of the day raving about 'Grandma Flash'. Taking time out from Take That, the charismatic Mark Owen then led the crowd through a series of sing-along moments as only a true professional can. Scrambling on and off speaker stacks he worked the crowd with ease.
With so much full-on entertainment, surrounded by a swell of partying people, there was no better place to relax and enjoy some less frenetic music than at the Bandstand Stage in the Lower Kids Garden. With sofas and chairs outside the Real Ale tent local West Dorset band, The J Cats, who have played at Camp Bestival many times, impressed a select group of fans. They were followed by the 'next big thing', Ady Suleiman, who not only impressed the audience but when called on for an encore endeared himself by saying he had never been asked for one before.
Back over in the Castle Field the legendary Kid Creole and the Coconuts took to the stage, and whilst the man himself didn't appear to have changed much, his Coconuts, whose three costume changes brought a fashionable pizazz to the show, looked to have grown up in a later generation. With classic hits like Stool Pigeon and Annie, I'm not your Daddy to get the crowd going, along with his theatrical antics with the Coconuts; there was no shortage of spectacle. Later on, if the Castle Stage area had had a roof The Levellers would have happily lifted it with a rousing set to close the evening. That wasn't the end of live music however. In Pig's Big Ballroom, The Men That Will Not Be Blamed for Nothing, put in a thundering performance of anarchic 'punk with a message'. And the message was? -well pretty tongue in cheek and often hard to make out, but definitely delivered with humour and heart. Across the way in the Big Top, Musical Youth, led by the energetic Dennis Seaton were still musical, though maybe no longer quite so youthful. They managed to show that even with a slimmed down version of the original line-up they still had plenty to offer. Sadly their set ended rather abruptly as they were cutting into the Silent Disco, but their big hit Pass the Dutchie still got an airing and an appreciative audience.
After a night on the Bollywood carpet the thought that Sunday might be a day of rest was quickly forgotten. Only the inflatable church, which had hosted a spate of irreverent weddings over the weekend, was taking a break. People arriving with day tickets filled the gaps left by those that had long journeys home and work to go to on Monday, and it was only too easy to separate the exhausted and bleary-eyed party people from the freshly showered and frighteningly energetic locals who had just popped out from home for a day's fun. They weren't disappointed. A line-up that included Nik Kershaw, Heaven 17 and a blistering performance from headliner Labrinth left only the traditional firework display to light up the sky in spectacular fashion.
To say that there is something for everyone at Camp Bestival is an understatement. From poetry collectives and author interviews in the Literary Tent, to Adult Chanting and Shamanic Healing in the Soul Park. From puppet shows in Dingly Dell and Mountain Boarding and Inline Skating in the Freesports Park, to fantastic food and a fancy dress parade, there is far too much to do and nobody could possibly leave without enough memories to last a year. Who could ever forget the heart stopping Wall of Death; thrills and spills from the Medieval Jousting Teams; the Big Wheel; the Helter Skelter; the giant sand pit; the Insect Circus and the Knitting Tent?…  yes a Knitting Tent, get over it. There was even a WI Tent serving gallons of much needed tea – just the job when you needed a lift.
For a weekend of family entertainment Camp Bestival is still way up there and well deserves each one of its Festival awards.
Words and pictures © Marshwood Vale Ltd..