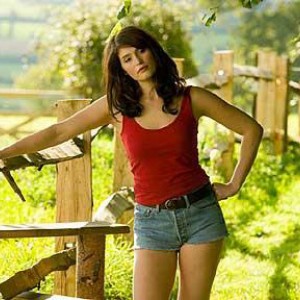 As she walks the red carpet at the Gala screening of the new film, Tamara Drewe, in Bridport in September, writer and illustrator, Posy Simmonds MBE, will be treading the pavements of her forebears. Her grandfather was a vicar in Bridport. Having said that, it is pure coincidence that the film, which was based on her successful graphic novel of the same name, was filmed around Bridport, as well as other locations in Dorset. With some of the characters borrowed from the plot of Thomas Hardy's Far from the Madding Crowd, the story already has a strong Dorset feel, and with local scenery and many extras from the surrounding area it is sure to be a hit with the local community. It is fitting then, that a Gala screening, featuring an introduction by Posy Simmonds and a short talk by the film's Director, Stephen Frears, is to be held at the Electric Palace cinema in Bridport on September 17th.
The daughter of a dairy farmer and auctioneer, Posy Simmonds grew up in Berkshire. After attending Central Saint Martin's College of Art and Design in London she was determined to find work as an illustrator and eventually got her break with a commission to produce a cartoon for The Sun newspaper. Her extraordinary ability to observe and depict the humour in the minutia of daily life propelled her career, and saw her contributing to The Times, The Spectator, Cosmopolitan and The Guardian, as well as to Harper's Magazine in America. In 2002 she was made a Member of the British Empire for her services to the newspaper industry.
Tamara Drewe, originally a serialised cartoon strip for The Guardian, is her first film. However, even though drawing a graphic novel is in many ways like writing a film, she had no idea that it might one day become one. She hadn't realised that her chosen art encompasses many of the talents that come together to make a film. "You choose the locations, do mixed sketches, do the costumes and cast the characters", she says. "You draw the faces, changing the noses or other features until somehow one of them leaps out and you think 'yes, I know you'. And then you write the script. You get the characters to act, you do the close-ups, the long shots. I hadn't realised how filmic the whole process is." It has its occasional not so subtle differences though. She recalls an incident where Stephen Frears pointed out that it was much easier for her to change a scene to snow for example, whereas for him to recreate such a change on film was a huge undertaking.
Most fiction writers tend to be asked if their characters come from real life and Posy Simmonds admits that many of hers may be inspired by, or have parallels with, people she has observed over the years. Many years in the literary world have allowed her to observe the funny, the sad and the outright ridiculous situations that people can find themselves in. The story of Tamara Drewe is set around a writers' retreat in the country, where novelists and other writers come to be pampered while they craft their art. It is run by Beth Hardiman, whole adulterous husband Nicholas is a relatively successful novelist himself. Hard working and long suffering Beth, living in a constant state of mistrust and jealousy, sends her husband off to a literary festival muttering, 'I hate festivals… rutting grounds of viciousness, jealousy, vanity, disgusting displays of male ego – well, and female'. Posy Simmonds' ability to work with both words and images adds a wonderful dimension to the story. Two havoc creating teenagers in the book, Jody and Casey, remind her of teenagers she has seen on various busses. "When some of the children come out of school and get a bus across London, it's as if they put on a mini circus for the rest of the bus" she says. "They talk incredibly loudly, absolutely yelling into their mobile phones. They shout about how they 'got well bladdered last night' or 'pissed' out of their heads. And some of it you know is bravado… though some of it might be true. And of course the language is extraordinarily ripe."
The film came about when a production company bought an option from her agent. Moira Buffini wrote a script, and Stephen Frears, having read it on a plane to New York, agreed to direct it. Posy is very impressed with the resulting film saying "Stephen has done an amazing job, because, although he has made his own film, it is incredibly close to the book." Not to detract from people's enjoyment of the film she doesn't let on what changes have been made, but hints that, although much of the dialogue is the same, there are changes that she feels do enhance what has been billed as a lustful and humorous story.