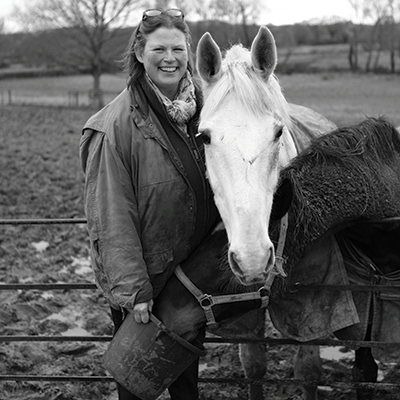 Robin Mills met Louisa Hawker at her home in Salwayash, Dorset
'I'm a Dorset person, born and bred. I was born in the old Dorchester maternity hospital, Somerleigh Court, quite some time after my older brother and sister. We were brought up on a farm just outside Beaminster, and I had a glorious childhood of farm animals, ponies and dogs.
My father was something of an experimental farmer, and went to Cambridge to study agriculture. He then went to India, to teach farmers how to grow pineapples—in the middle of Calcutta racecourse—and then war broke out and he had to join the Indian cavalry. Returning to England after the war, he fell in love with Mum and they married. My mother's life revolved around horses; she has an affinity with them, she really was a horse whisperer, and she bred, broke and rode horses to success. If you didn't like ponies you didn't see her—or me. I did, but my brother and sister (Giles and Charlotte) weren't so keen. On the farm we milked Ayrshire cows, and we had what I think was the first covered yard in Dorset where the cows wintered. There was an acre of blackcurrants, for which we got paid 6d a bucket if we helped pick them. My father would soon get bored with one type of farming and then try something else, so next came sheep, and finally he planted acres of cider apples for Taunton Cider, and they're still there, looked after by Giles and his wife Fran.
I went to St Ronan's in Bridport, and then was sent as a boarder to Hanford, a prep school in Childe Okeford, aged 8. I was so homesick I used to howl. The headmistress said that if I carried on like that she'd put me out with the dogs—I'm not sure if that would have made me happier or howl louder. But it was a lovely school, and we were allowed to keep our ponies there. Surprisingly it was quite academic, and we were very well schooled in Latin by the time we left. My next school was miles away, near Newbury, and I didn't enjoy it, but we all just got on with it, and left having done A levels by the time we were 16.
My parents didn't quite know what to do with me, having left school at 16; I wanted to train as an architect but was told by my father that girls don't go to university. So I was sent to a finishing school to become a young lady (it didn't work) and to learn how to cook, to a place called Redlynch, near Bruton. It was a one year course of domestic science and learning fun skills such as how to descend a staircase backwards in a long dress without tripping over, and how to get into a Mini whilst wearing a short skirt—with decorum. In spite of that, from that course I decided that cooking was what I wanted to pursue as a career, but, like my mother, horses have always come first. I was eventing competitively a bit, and when Sir John Colfox had his awful crash they let me event his horse, Harry, a really super animal. I spent hours and hours training him, but when Philip Colfox said he'd like a go on his father's horse he got exactly the same result as me, which just showed what a marvellous horse he was. Hunting was my first love, so much so that I even went to America hunting, where it's all timber, and it's called fox chasing. They never kill the fox, but it's very American so they have all the pomp and ceremony—in fact more so—to the point that even the loo-rolls have foxes on them. I also went to New Zealand hunting in 1986, and emboldened by half a glass of whisky I would phone up total strangers and ask if a) I could come hunting with their pack, b) I could stay the night, c) there was a horse I could ride and d) could they pick me up from the bus station. Afterwards there would be a tea party, speeches and we would swap hunting stories.
I went off to Florence to learn Italian and history of art. A friend joined me and we did the grand tour of Italy by train, ending up in Malta with my aunt, to whom we were frequent summer visitors. She died only last year reaching the great age of 103. I'd also spend some of the summer in Scotland cooking for shooting parties, and the winters hunting and cooking for dinner parties. Over the years I've cooked for all the royals except the Queen and Prince Edward.
When I got married, I found I had a supporter who'd also do wine waiting allowing my repertoire to expand to bigger parties such as weddings. Soon we had two lovely children. My husband Dickon was a trained forester, a great man who planted trees all over Dorset. Sadly he died of pancreatic cancer in 1992 after only 5 years of our married life; our children were 18 months and 3 years old, and I would have been lost without my sister at this time. The children continue to be a living reminder of his kindness and gentle nature, as do the woodlands he planted. Losing him meant I then really had to rely on my cooking, and it became full-time. I was cooking at weddings, in peoples' houses, gardens and marquees, as well as here, where I now have a converted barn, and what I call the folly. Having all the facilities on site makes it much less stressful for me. Nowadays I don't do so much, although my wonderful team are still chomping at the bit, helping me make it all possible.
When the children were at primary school I had a lot of fun collecting them on horseback, at first on the front of my saddle with a cushion, and then later on their Shetland pony George; I can't imagine that would be allowed now! As a family we would ride a lot together, the three musketeers with a picnic on our backs and a few dogs in tow. For my 40th I took the children to a ranch in Arizona, where we rounded up calves, bought cowboy boots, and saw the Grand Canyon from a helicopter—definitely the holiday of a lifetime. A few years later we stayed on a farm in the Brazilian rainforest with a couple called Binka and Robyn, riding, swimming in the waterfalls which provide the entire farm's electricity, and milking the cows by hand. The house was made of straw bales, and there didn't seem to be a single meal which didn't have a chicken's foot poking out of it. Then about 8 or 10 years ago I had a kind of busman's holiday and spent a week at Raymond Blanc's cookery school, Le Manoir in Oxfordshire. The course was wonderful fun—he'd come in in the morning and we'd all get kissed on both cheeks. I was trained cordon bleu, so I can't call myself a foodie in the modern sense—it's just what I do.
My son Jack, who's 27, went to Edinburgh and studied timber engineering. After uni he spent a year or two at Hooke Park, helping to build the extraordinary structures that they have scattered through the woods. The AA (Architectural Association) students designed the buildings, and he'd build them. He then completed his masters in sustainable engineering at Bath, and he's now working for a structural engineer there. My daughter Connie, after studying French and Spanish at Newcastle and a year in Madrid, is now a freelance food and sustainability writer, based in London, although the winter weekends are spent in Dorset, picking up for local shoots with our three yellow Labradors. I feel very lucky to have spent my life in Dorset—it is the perfect place to "live the dream".'