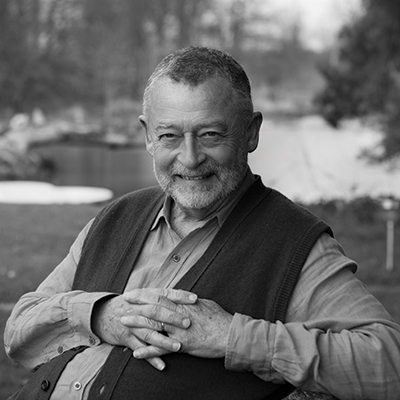 I was born and brought up in Cambridge. My father was in the RAF during the war, afterwards becoming a flying instructor. I am blessed with probably the most generous father in the world; he always had time for us four children, the most unselfish person I've ever known. He's still alive – he's 98. He always encouraged an interest in natural history in us, and we were well educated, although by the time our education was finished he'd run out of funds. I used to bemoan my lack of pocket money, and he said, "one day you'll probably be giving me pocket money", which turned out to be true.
I failed my 11-plus – on the maths side I was a bit of a dunce – but I managed to pass the exams into a Roman Catholic school in Southampton, St Mary's College, where I was really happy. I went from being beaten at my first school to being top of the class. I suppose as a teenager I was a bit idealistic, so I was looking for a job where I could make a difference. My parents' best friend was a solicitor, and I thought the legal profession might fit the bill. Everyone who goes to a solicitor has some problem to sort out, maybe buying a house, or a loved one's died, and I thought it would be good to be able to help. So I became an articled clerk to a solicitor in Southampton. I had to go to London to do my law exams, and did my 5-year training in London at the College of Law, where the exams were pretty rigorous, and transferred my articles to a lady solicitor in London called Miss Hornby. She was fairly formidable; by way of introduction she would announce "this article is my clerk". I got to enjoy London life, with the fun and parties, and made lots of friends with whom I am still in touch; however, on the day I qualified I decided I didn't want to be a solicitor for the rest of my life. I freaked out a bit, probably because I'd started too young at 17, and felt under pressure to become a pillar of the community. So I did the hippy thing for a while, travelling the world, and when I came back I told my father I'd given up the law. He was very worried and tried to change my mind, but I didn't.
All through this period I kept my hobby going, breeding butterflies and moths, and rearing caterpillars. I kept giant silk moth caterpillars in my bed-sit. As a child of 6 or 7 I found a hairy caterpillar crossing the path in our garden, one of those magic childhood moments which we all have, especially if, like me, we have a happy childhood; and then later on, consciously or subconsciously, we look for again.
I messed around with various casual jobs, but began to realise that what I wanted was to be free, and to be free it would help to have plenty of money. Money should equal freedom, but most people are so obsessed with the process of making more of it, that instead they become enslaved by the process itself. I've always tried to bear that in mind. Soon, I bought my first property, a short lease in Chelsea, with a friend, Peter Sunda, who ran a junk shop in West Kensington. He was older and a lot wiser than me in the ways of business, and we borrowed money from his bank, furnished the flat from his junk shop, and went from there. At his suggestion I started a flat letting agency, because he knew all the local landlords; in those days it was all furnished lettings, and this worked well because having had a legal training I could offer the landlords a good service. And that created opportunities to buy more properties. I'd seen what some of the property clients had done when I was an articled clerk, and it didn't seem that difficult to me. So I got going, started borrowing huge amounts of money, and wheeling and dealing on the London property market. I was dedicated; I worked 7 days a week, didn't even have a car in those days, and became quite successful. I made friends with a client, an Iraqi dentist, who lived an exotic life and drove an E type Jaguar. He wanted to go into business with me – I insisted we should include my old friend Peter – so the three of us really got going then, and expanded rapidly. We had setbacks of course in the various recessions, but we survived.
About that time I had the opportunity to take a lease on a piece of land in Syon Park, West London, owned by the Duke of Northumberland, where I obtained planning permission to build the London Butterfly House in 1981. This took the form of an enormous greenhouse with a tropical environment within, planted with the best nectar plants and caterpillar food plants for exotic butterflies from all over the world. There also were giant spiders, leaf cutting ants, stick insects, and praying mantids. It was a pioneering and risky project and no one knew if it would work, or whether enough visitors would come to make it viable. There was a large bank loan and many sleepless nights. And then David Attenborough came along and made a BBC programme called "A Touch of the Butterflies". We filmed in Malaysia where many of our butterflies were bred, and then we filmed our visitors in the greenhouse interacting with the butterflies. It made a great film. The day after it was shown on prime time BBC1 there was a queue down the path, and we never really looked back.
Since then I've built 3 more butterfly exhibitions in Britain (one of which I still have in Stratford-upon-Avon), one in Switzerland, and one in Florida. I also had one stupendous failure at the old Rose Society Gardens near St Albans which nearly bankrupted me. But that's another story.
I also acquired a beautiful patch of rainforest in the Maya Mountains in southern Belize where I built a butterfly farm with my old friend Ray Harberd. We employ 12 local Kekchi and Maya Indians who breed some thousands of new butterflies every week, including the gorgeous Blue Morpho and Owl butterflies, to supply butterfly displays all over the world, including the RHS Wisley Gardens, and the Natural History Museum in London.
In the early 1980's, fed up with London, I was yearning for a life in the country, where I could create a nature reserve. I was really lucky to find my home here, where I have implemented what my son Luke calls my "hair-brained schemes". We have a plant prison, an island of dreams, a gnomes' house, a snake house, Gregor Mendel's house, and acres of wildflower meadows, woodland and lakes – including an S- shaped lake in honour of my daughter Sonja. We created the now famous R field in honour of my beautiful wife Rajna. She is from Serbia, former Yugoslavia, and I first met her through butterflies – another long story! The field has the world's biggest letter R etched into the ground in ditches and banks. It supports over 200 species of native wildflowers and grasses, plus the legions of animals which in turn depend on the vegetation, directly or indirectly. Because of my obsession with butterflies, we have made a series of south facing limestone crescents and banks to grow horseshoe vetch, kidney vetch, and devil's bit scabious to attract the Adonis Blue, Small Blue, Chalkhill Blue, and after a long absence the Marsh Fritillary which was first spotted here 50 years ago by Charlie Gibson, a Sherborne schoolboy. This gives me enormous joy. If you get the landscaping right, these wonderful creatures will come and live with you. And if you get it right for butterflies, it will be right for everything else, including us humans.