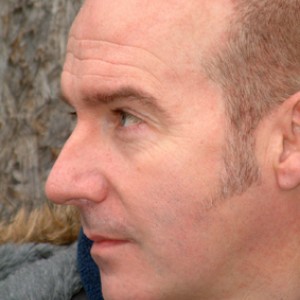 Midge Ure talks to Fergus Byrne
Midge Ure's musical history reads a bit like a who's who of the industry. He experienced his first moment of success in 1976 when his band Slik knocked Abba off the Number One slot with their single Forever and Ever. He went on to be part of The Rich Kids, Thin Lizzy, Visage, Ultravox and of course Band Aid.
Midge is modest about his success and puts it down to luck saying he joined the music business to get noticed. "It was a desire to show off", he says. "I was kind of small for my age and to try to impress the girls I thought if I had a guitar round my neck, that would make me more appealing. It was also a desire to be on Top of the Pops and try and have a peek inside Pan's People's dressing room!" It wasn't until he got embroiled in the industry that he thought he could really write songs and perhaps create something a little different. Apart from Band Aid's Do they know it's Christmas he has been responsible for memorable songs such as Vienna, If I Was and the classic Dancing with Tears in my Eyes.
Although his life has been littered with what most people would consider, historic moments – from appearing at Live Aid to receiving an OBE – he claims a lot of that is down to luck. He says, "I can't put it all down to me. It's just being in the right place at the right time, and fate dictates in which direction you should head. Possibly the one talent that I might have, is that when there's a decision to be made, I haven't always made the right decision, but I've made the right one for me at that moment in time. I've followed whatever was my gut instinct at the time, and sometimes that's led me up back alleys, but most of the time it's actually led me on to doing the right thing – not a bad thing to instil in any kid."
Inspiring, or being a role model for children is something Midge is sometimes baffled by. Although staff at a university, from which he has been bestowed an honorary degree, see him as a role model, he certainly doesn't see that from an academic point of view. "I was a dreadful student," he says. "The only way I would ever get a degree is if it was an honorary one. I had no interest in academia at all. My head was full of guitars and amplifiers and all that rubbish. Having said that, I think the degree I got from Abertay in Dundee was more because they have a history of helping the working class and nurturing the talents of your average guy in the street. I think the parallel they are looking at, is the working-class guy who has done well. If anyone wanted to follow my footsteps in academia they would end up sweeping the streets!"
His inspirational role, resulting from his involvement in 'Live Aid' and 'Make Poverty History', followed an altogether more logical path. He says, "Once I'd been to Ethiopia and seen it for myself, that changed everything – that changed it all." Live Aid and starting a family came close together. "When family life came along I started getting my priorities altered and changed round. Instead of just thinking, me me me, I had to start thinking of this thing I'd brought into the world." The 'thing' he'd brought into the world now has her own record deal. His daughter Molly is lead singer with The Faders, a band that has also tasted chart success. However, Midge is more than aware of the pitfalls of that success. He bitterly remembers how six months after having a number one hit, his band Slik was 'all washed up'. Like all parents, he hopes that experience and his advice will help his daughter sidestep some of the lessons that rock 'n roll sometimes misses. "There is a kind of rock 'n roll rite of passage that you have to go through," he says. "I remember as a kid, desperate to be successful, desperate to have a record deal, desperate to be allowed to go and do what I wanted to do … then, of course, it all comes along and you find yourself with an eight-bedroom house on the river in London and a garage full of classic cars that are too old to drive."
The lessons learned from success, however, are something that he can only hope are stronger than the messages from schmoosing record label marketing men. "I'd tasted what felt like success," he says of his Slik days. "Been on Top of the Pops, had the screaming girls, the huge rosy future – so I thought – only to find we were blown out of the water by the Sex Pistols. Quite right – but it was a great lesson to learn early on."
Nowadays Midge has more control. He produces what he wants, when he wants and releases most of it through his website www.midgeure.com. On Friday, April 28th he plays at the Marine Theatre in Lyme Regis. Though he doesn't like to call it a tour he is travelling around the UK and Germany bringing an acoustic show to what is very often a very mixed audience. "I still get a bit of a Goth following", he says. "They turn up and see me in my acoustic shows and I would think that's so far removed from what I'd expect them to go and listen to. But I'm also getting the diehards, thank God, and even those that might want to see me in case I die soon 'Oh yeah I saw Midge before his old ticker gave out', you'll hear them say." Thankfully he gives audiences a lot of much better reasons to go and see him.