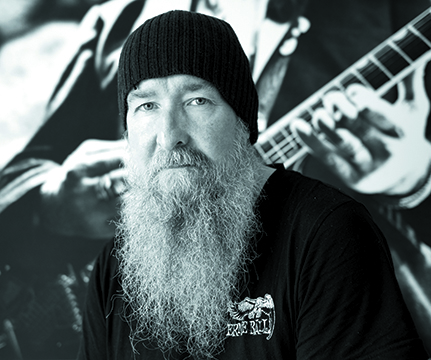 Julia Mear met Nik Ryan in Seaton
'I was born in Stockport near Manchester. When I was seven we relocated to Henley-on-Thames with my dad's work in IT. This was around the time I started picking up the guitar and messing around with it. No-one in my family ever owned an instrument, but a neighbour ended up giving me a guitar. I'd probably seen The Monkees on TV and would have been emulating that on a broom handle or something similar. I had an elder brother Paul, 8yrs older than me, very sporty and totally opposite to me.
In my teens, I had some guitar lessons from John Hooker. He was a friend of my brothers; had long hair and was very cool and did a bit of session work. He played at Friar Park, George Harrison's place, so he had a lot of rock and roll stories to tell. I delivered papers around there so saw him occasionally. Ian Pace from Deep Purple also lived around our area and that was the first time I'd seen a Rolls Royce. Rock stars were mythical beings in those days. The great thing about Punk was that it became accessible to mere mortals like myself. Mum and dad were always encouraging about my music but this didn't stretch as far as getting me an electric guitar. Eventually I managed to buy my own from my paper round money.
In 1979, when I was 16, I joined the Navy. My intent had been to play the guitar for a living, so when I suggested to my dad that I thought it would be a good idea for me to go to art college with my mates, he asked where I thought I would live, I said at home of course, but his answer to this was no. He suggested that as I liked travelling and would need money, the Navy might suit me. So that's what I did, and I have dad to thank for this because it was great. I was based in Plymouth and did seven and a half years. My grandad had been a Stoker in the Navy and I was also a Stoker; looking after the boilers. They call them Marine Engineers now. We got to the Falklands just as the war finished; I was part of the clean-up operation and guardship to make sure nothing kicked off again. We also went down to South Georgia to a disused Whaling Station; it was full of elephant seals and penguins everywhere. I picked up a penguin but shouldn't have—it didn't like it and tried to peck me—can't blame it really. I got to see parts of the world I never would have seen otherwise, but after about seven years I was wanting to play guitar more. It had definitely been good times for me; making the ship go from A to B, drinking and playing songs for my ship mates. I finished on the last of the steamships, on HMS Apollo.
So, I came out in 1987 and started playing in bands in and around Plymouth. My best friend had started making flight cases to take all your gear around in when on the road. He wanted someone to come on board with him to open a music shop in Plymouth; as I knew so much about guitars we bought the shop lease together. I started giving guitar lessons around this time as well. The music shop went well up until my mate was tragically killed in a motoring accident. The recession was kicking in so I ended up coming out of that and went travelling in a VW bus around Europe with my girlfriend at the time. We had a baby on the way and Daniel was born in 1992, this is when things got real. I came back from being unemployed and going around Europe to thinking I need to get a proper gig. I got some session work with a local studio and they got me in touch with a band that was doing six months abroad and six months in the UK. The band was called 'Back to Front'; a classic rock kind of outfit. I was doing winters in Lanzarote and summers in the UK, which was based in Seaton. In 1995 I split up with my then wife but naturally kept in touch with Daniel. Although they moved to Canberra in Australia, Daniel finished his schooling here at Woodroffe in Lyme Regis which was great for me to be able to spend this time with him. Then the band got a chance to play in the Far East but needed two girl singers to get the gig. We got the girl singers but we didn't get the gig in the end! But I ended up getting together with one of the girl singers, Sarah. She'd split up with her husband at around the same time. We were both in the same situation—not really looking for anything to do with the opposite sex, but things developed and we started our band together, 'Real World', which is 20 years ago now.
We decided to get married in 2000. We planned a tacky Vegas wedding but found out Sarah was carrying our first son together, Joe, so instead we decided to get married in Gretna Green on April Fool's day. Very romantically, we went on the midnight train and got married over the anvil. We had Joe, who we named after my grandad in July of that year. Sarah couldn't work so much with a baby so I started doing solo gigs as well as giving guitar lessons. Two years later we had Rory, named after Rory Gallagher, the famous Irish guitar player. Now we had double the amount of fun with two children. Sarah wanted to be a hands-on mum so this is when I came up with the idea of the 'ZZ Tops' tribute band. I'd gone to see them play at the Brixham Academy and thought; wow this would make a good tribute band. I looked to see who was doing it and no-one was doing it that well! I'd known Colin Gray as a friend for many years; we started recording together and I enlisted his services for the 'ZZ Tops'. He knew Jonesy (Matthew Jones) the drummer. So, after growing a beard and doing some warm up gigs locally we had our first big gig at the London Motor Show and it was well received.
The first time we met 'ZZ Top' was in Carcassonne in France and we met Billy Gibbons after the show. It was very exciting and nerve racking. If he'd have said he doesn't like tribute bands it would have been devastating but he didn't—he said we were the closest he'd seen worldwide.
We started getting more work and we caught the eye of the music industry. We got an endorsement deal with Blackstar Amplification and Bose the sound company. This involved some music industry consultant work demonstrating their products in stores and music shows. It all helps enhance our profile and finances and of course nice to be thought of as an ambassador for these products.
Sarah started doing vocal tuition and we operate under the banner of East Devon Music Studio doing vocal, recording and guitar tuition in schools and privately. It's nice to keep your hand in when you're not on the road. Finding out what the current trends are and what's going on in the bigger picture. Someone once said to me if you're going to do well in music you've got to do lots of stuff, it doesn't matter what stuff but it just builds up over time and gives you more knowledge and access to bigger things.
The thing about being self-employed is that you work long hours, especially as I love what I do. So when I get family time it's incredible. My mum was a great cook and my love of cooking stems from helping her in the kitchen growing up. I do a lot of the cooking at home and am well known in our social circle for my home-made guacamole. We've just come back from a family holiday in Snowdonia—these simple pleasures of family holidays and even just living by the sea here makes me feel very lucky. Family life is wonderful, Joe is playing guitar and enjoying it. Rory has been song writing and playing piano for some time now and is actually a grade eight vocalist. Who knows, we could end up as the Partridge family.'