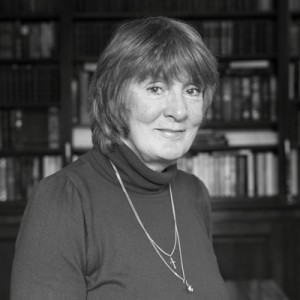 Robin Mills went to Cheselbourne, Dorset, to meet writer Eve Bonham. This is her story.
"My school friends used to call me the storyteller—and I've been one throughout my life. I've scribbled in diaries, written letters and told tall tales ever since I was a child. They say truth is stranger than fiction and I look at the story of my life and it does seem like an amazing dream.
My father and mother were both Londoners: she was half Canadian, he was the youngest of a large family, born in 1904. His eldest brother was killed aged 18 in the Battle of the Somme. My father was very British, with Victorian values, and he went into the family auction business, Bonhams, founded in 1793 by John Bonham. My aunt Helen worked in the auction house too, conducting sales all through the Blitz when her brother, my Dad went off to the war. She was the first ever woman auctioneer and I later became the second.
We lived in Berkshire, but I was sent to boarding school in Worcestershire, a less than happy experience. My two brothers went into the family business after they left school, but I wanted to break the mould and teach, so I went to Trinity College, Dublin and read English and Irish Literature. I loved Ireland and university life. I edited the college magazine, did athletics, acted in plays and went to great parties. I didn't put in many hours studying, but worked hard for my exams and got a good degree. After that I had a burning desire to get away, so I went to the Far East.
I got a job for 2 years teaching English as a Foreign Language in Bangkok in the early 1970's. Apart from the cars, it wasn't dangerous in Bangkok, but there were lots of Americans on R&R from Vietnam, saying "it's hell out there", so I thought I'd take a look. Off I went to Vietnam and Laos in the midst of the war. I wrote a story called Fly Baby about my adventures in Laos. Whilst travelling in Sumatra, I got stoned and I don't mean drugs. Some tribal people took offence at something about me and their kids started throwing stones. So I ran. Fast. I was lucky to escape with only bad bruising. After another spell in Bangkok, I took off again to travel overland back to England. Burma was my favourite place but I also loved Afghanistan, travelling there by bus through the Khyber Pass, and then exploring the country. In Iran, I found Tehran threatening, but in the south, Persepolis and Isfahan were wonderful. I arrived home in England after nearly 2 years away and no telephone contact at all during that time!
Back home, I took a business management course and then joined the family business. I had lots of ideas and little practicality, but I learned from the bottom up. My father wanted no nepotism in the firm, so my brothers and I were the worst paid! At that time Bonhams were the only fine art auctioneers with family members still involved. After 5 exciting years I left the business—I had other fish to fry!
I worked for an adult literacy scheme in London, employed by Red Ken and the Inner London Education Authority, commuting from Chelsea to New Cross. That lasted for a short time as we were subject to cutbacks, so I left London and went to live in Wiltshire. I was still involved doing PR work for Bonhams, writing articles for magazines, but I learned picture framing and enjoyed using my hands for something other than wielding a gavel. I was finding more time to sail. As a family, we had always sailed and raced in small boats off the Isle of Wight. In 1974, Clare Francis, (we'd dug sandcastles together as children), asked me if I'd like to do the Round Britain Race with her. She's my best mucker really—godmother to my daughter, and I'm godmother to her son. We were the only girls in the race, the weather was vile, and we came third. I was quite nifty on the foredeck and went on to do lots more ocean races: Whitbread Round the World Race with Clare in 1977/78, followed by the Transatlantic race in '81, another Round Britain race and AZAB (Azores and Back—2,500 miles) which I did with my mother in a 32ft boat.
Michael and I met sailing and got together in 1984. I was by then back in London, as UK campaign organiser for the UN International Year of Shelter for the Homeless. They must have been insane to appoint me—I had no qualifications for the job—just enthusiasm! I started with a room and a typewriter in Shelter in Waterloo Road, and ended up with a large office in Russell Square with hordes of volunteers. It generated in me a lifelong sympathy with in the problems of the homeless.
In 1986 our daughter Julie was born followed by Jack 2 years later, when I was 41. This was such a blessing—I'd never expected to have children or even get married! Getting tied down had been the last thing I'd wanted. But when it happens, it happens. In 1989, Michael, who is a chartered surveyor, sold his business and we went to live in a Breton village in France. Soon after that the family sailed away on our beloved boat 'Gem' and over a few years did much sailing in the Caribbean, Venezuela, and all the way up the Eastern seaboard of the USA and Canada. I wrote lively logs of all our voyages. After a dozen years in France, we came back to England to enable our children to have some English education. It had all been in French up till then—they still speak French "sans accent". So we bought a house in a Dorset village.
I had always intended to become a writer—having produced many articles and also given lectures and talks. I promised myself I'd start creating fiction when the children left school. As a journalist, even though I knew little about a subject, I could always swot it up and manage to sound plausible. If asked to write about collecting antique teddy bears, I could do it competently and submit it on time! So I sat at my desk in my new home in Dorset, looking out over the sheep in the valley meadow, and started writing fiction. I already had many stories, some written down and others in my head and began working up a collection of short stories. Inevitably these were often drawn from real incidents and people I've known. I love writing; it's something I have to do, but it can be very hard to get it right, and one needs to be disciplined about putting the hours in. Using my experiences and my imagination, I write about the human heart. If a reader says that they've really identified with a character or an emotion in my story, I feel I've succeeded in what I'm trying to do. I find other people's lives fascinating and instructive. I love my family and learn a lot from them too. My husband is especially supportive.
My first book, Madness Lies and Other Stories, a collection of 16 short stories, was published in paperback in 2008. My novel, To the End of the Day, was published in hardback in 2011 and tells the story of a turbulent friendship. I have been persuaded by my publishers to help promote my books—which have done alright and continue to sell in Waterstones and on Amazon. I've been encouraged to have a website, a Facebook fan page, a monthly blog and to give talks at book festivals, for the U3A and to libraries. As a writer I am keen to gain readership and support libraries and book clubs. I am also a passionate reader of books by other authors.
I'm working on my next project—nearing the end of my new novel. This book has a much wider scope; its themes include forgiveness and redemption. I found faith in a loving God back in 2006, and I know that love is the most important thing. This book is a complex love story and an affirmation that we can turn ourselves around and become better people if we try.
Living in Dorset, I feel really grounded. I appreciate having a home and I still work with the homeless. I've taken up watercolour painting which is creative and a great way to relax. I love this county—people give you time here, and as a writer that's what I need. After being the rolling stone of the family, that no one could pin down, always doing outrageous things, I seem to have come back home and become like my mother, rooted in the country. I grow vegetables. I'm learning lots about trees. We've planted over a hundred in our garden and the surrounding fields. I like the thought of someone saying, when I'm pushing up daisies under one of them, 'I wonder who had the vision to plant all those lovely trees?'"