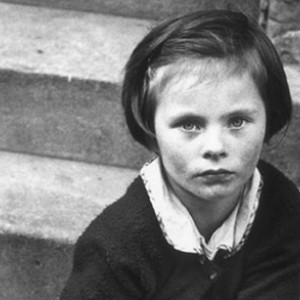 It's not everyday that one gets the opportunity to leaf through a body of unpublished work from a great artist. But as I sat chatting to Lyme Regis photographer Roger Mayne, looking through a mock up of a new book of his photographs he has compiled, I found myself contemplating selling my home to raise the money to publish it. Much as I enjoy my copy of his book Photographs, Roger Mayne, which was published by Jonathan Cape in 2001, I have no doubt that this thoughtfully put together collection of his work spanning many years and subjects would find an eager and appreciative audience.
Roger Mayne, now a veteran of more than thirty years in Lyme Regis and a trustee of the Town Mill, is busy working on selections and prints for an exhibition of his lesser known work to be shown there at the end of March. Entitled Grandpa's Eye, the exhibition concentrates on some of the more personal photographs he has taken of his grandchildren over the years. Capturing very personal moments, with a photographer's vision and a parent's love, he has produced a range of images that will intrigue and delight those who visit the exhibition.
Roger is perhaps best known for a series of photographs taken in Southam Street in London's Notting Dale (now Notting Hill) from 1956 to 1961, which captured the spirit of the late fifties. The Southam Street collection, which is seen as a definitive archive from the period, is of national importance and is now held by the Victoria and Albert Museum in London.
Although the street was demolished in 1969 the work was brought to a new audience in the 90s when it was used extensively for concert backdrops, record sleeves and press-adverts by the singer Morrissey. One of the images was used on the cover of novelist Colin MacInnes book Absolute Beginners (1959), which is set in the area around Southam Street.
Although now more than fifty years old the Southam Street photographs have become an indelible part of how people perceive Roger Mayne as a photographer. They are in many ways a noose around his neck. "In a sense I put it round my own neck" says Roger. "What happened was – I've always been an inveterate maker of albums – so I made an album of Southam Street, because it was the most prolific. I tended to have favourite streets. Southam Street had the most photographs, so I made an album of it. Then I had 56 pages given to me in a magazine so I condensed the photographs to fit the 56 pages. It went to about 1500 copies. When the V&A exhibition came up, a similar situation happened. I re-edited the Southam Street and of course by doing that I drew all this attention, and I just saddled myself since with Southam Street. Some of the people photographed came to the V&A opening. The Evening Standard did a feature on the street of 'Roger Mayne's exhibition' and they were interested to hear comments from some of the people who lived on the street. They got some – in fact quite a lot. Then The Sunday Times did a feature before the exhibition and some of the families photographed called me and came to the opening."
Roger's unique vision and ability to see the composition of what is before him, is to many, the mystery of photography. To capture the essence of something that actually happened may seem a god-given talent but it also takes a certain amount of training. Speaking about how one develops the ability to see the composition he says. "When I came to London I endlessly went to galleries – I soaked myself in visual art, cinema as well – I got it into my system. You almost feel that the moment is significant without knowing necessarily why. Terry Frost says 'If you know before you look then you cannot see for knowing'. It's not an intellectual process. It is not simply capturing a moment. It is what is in front of me – it is a formal shape. If the formal shape is interesting, it makes the photograph possible to look at again and again and again. A lot of news photography for instance – what is in front of the camera – it can be tough, it can be sensational, interesting, all sorts of things, but it lacks a compositional element."
His attitude to press photographs today elicits another Terry Frost quote. "Terry Frost made a comment about press photographers" says Roger (who himself purchased a Terry Frost when he was an up and coming painter in 1953). "'Press photographers take photographs as if Cezanne had never lived!' according to Frost. So many of the journalistic pictures today have a feeling that they have been put in front of an interesting background, but you can see that they are having their photograph taken."
Sometime ago Roger Mayne had an exhibition at the Arnolfini Gallery. It was in sections, based on themes. One gallery owner asked to show the section on family. His reason? He said that this is the way children should be photographed but never are.