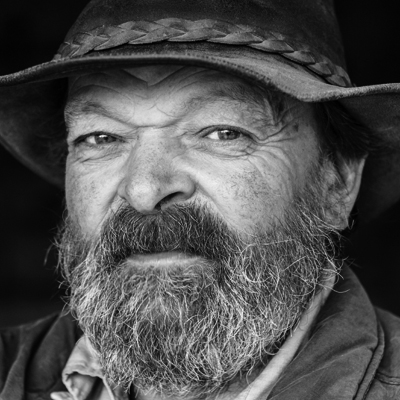 Robin Mills went to Chideock, West Dorset, to meet thatcher Dave Symonds. This is his story.
"My interest in thatching started when I was 11 years old. I got off the school bus one day, and the local thatcher who was working on the roof of the house by the bus stop asked me to carry up something he'd dropped. That started a bit of a relationship, and every time he was in the area I'd try and join in. When I got to about 13, he said to me, "If you want a job when you leave school, come and see me".
Our family were farmers; Grandfather had a farm in Ryall, but I was brought up in Whitchurch Canonicorum because there wasn't enough room in the family house for my mother, father, and four children. I was actually born above the stables at Catherston Manor where my mother was employed by the Bullen family. I spent all my time on the farm, and it seemed obvious that was what I'd do when I grew up; I could drive a tractor aged 7, and ploughed a four-acre field when I was 9 with a grey Fergy. By the time I was 14 I could do most things. But Grandfather died when I was 15, and there was no tenancy succession, so that by the time Grandmother had sorted out the estate fairly there wasn't enough for any of us to carry on with the farm, and Father went into agricultural contracting.
So when I was 15, I left school, took up the offer of going thatching and went to work for Ron Thomas, whose family had been thatchers in the area for five generations. I didn't do an apprenticeship. I did go on a course, aged 16, organised by CoSIRA, an organisation which helped train people in rural skills in those days, for 12 weeks up in Northampton. But my employer was one of the old school, and taught me things which I could only have learned by working for him. Ron Thomas was instrumental in raising the standard of thatching from an agricultural level to the pristine work you see today; he had real good skills and could get the nice straight lines you see on roofs. You've only got to look at the old photographs to see the standard of work done in the 1800s and early 1900s. Retained thatchers on the big estates in those days would spend more than half their year thatching hay and straw ricks; the hay ricks would need thatching from May/June, the corn ricks at harvest time, and then the thatch would be moved from the sheaves at thrashing time and put on the straw ricks in the late autumn. And then they'd work on the cottages in the rest of the year, which was almost a case of laying the straw on the roof just to keep the rain out. Many cottages got burnt, too, nearly always started by the village baker, and you could only chuck buckets of water on to try and put it out, so mostly they let them go.
I worked for Ron Thomas for 5 or 6 years, and then I went self-employed, but I only worked for him. Gradually I began to take on my own customers as well, and my brother was also working with us. When Mr Thomas fully retired, my brother and I decided not to work together, but Mr Thomas did a nice thing and wrote to all his customers west of Bridport suggesting that they should contact me for any work, and those customers east of Bridport should contact my brother. That would have been in the early seventies, but I've been self-employed for 45 years. For the first few years I was on my own, and I didn't work beyond the parishes of Chideock and Whitchurch Canonicorum. It would take me two or three months to thatch one decent-sized house. Nowadays, if we spend more than two or three weeks on one house, that's a big job, and that's because my son Scott now works with me, and we have three full-time employees. That was a big step in the business, about 20 years ago, when Scott joined in, giving me fresh impetus. It meant everything I'd learned and everything I'd built up could be passed on to him, and he'll take it a step further. So he's taken a lot of pressure off me.
I've also got the thrashing machine. Originally I was helping a local contractor in the Marshwood Vale with his machine who serviced the farms in this part of the world, but I got more and more involved with it because I enjoyed it, and I knew what I was doing because I'd been doing it since I was 16. Right from an early age I dreamed of owning my own machine, and so because we were growing our own wheat for thatch, it made sense when one came up for sale on Dartmoor, to buy it. Thrashing now takes me away from thatching for four months of the year; I go all over the place with it. It's actually a reed-comber, which means it's the only machine which will separate the grain from the straw without damaging the straw. It was made in 1906, by Marshall, with a Murch reed-comber adaptation. I know its life history; it had two owners in North Devon, from where it went to Oxford, owned by a thatcher like myself, then right up to Braintree in Essex, and then back down to Salisbury. From there it returned to Dartmoor. So it's covered much of the South of England. I've had it 16 years. I tow it behind a tractor, but originally it would have been towed and driven by a steam traction engine, running on iron wheels. I set off with it at the end of August; go right up to Salisbury, across to Taunton, and through the Somerset levels. Last year we went to 15 farms, and produced 61,000 bundles of thatch. So it's no wonder, with a 1906 machine, I have to spend a couple of weeks every year maintaining her. Basically she's worn out, but I haven't got another one so I've got to keep her going. The mechanisms are mostly quite simple, but what with woodworm and rust, no sooner I've cured one grain leak, another trickles out. I have to rely on a skinny lad that works for me to get inside and mend the awkward places.
We grow between 40 and 60 acres of wheat for thatch around the village. In 1989 I was lucky enough to rent a small farm, where we grow maize, stubble turnips, and the wheat. Growing wheat for thatch has to be done right, not at all the same as ordinary wheat for the grain. We use an old long-strawed variety, fertilize with dung and no artificial, and spray minimally to keep the weeds out. It's easy for the straw to get spoilt; in 2010 we lost 10 acres that went flat because there was too much fertility in the soil, and another year 400 sheep got into a lovely field of wheat and wrecked a few acres. The farming's become quite a big part of my work now, but that's because I was born to it, and it's something that's in me. And I've enjoyed cider since I was a boy too. Grandfather never restricted the grandchildren from drinking it, knowing that sooner or later they'd have a bit too much and make themselves ill, then learn to respect it. It's a refreshing drink if you're doing a physical job. I remember the old boys on the estate farm in Chideock drinking it, so the club we have now's a spin-off from those days. We make 2,000 to 3,000 gallons a year, none of it is sold, and two or three times a week people in the village meet to have a drink and a natter. All the money, which comes from donations to Chideock Cider Makers, goes to charity, somewhere between £4,000 and £7,000 a year. People from all walks of life belong, and what with all the things that go on in the village when cider is on offer, the community drinks it.
I love my vegetable garden. It's something I inherited from my father, who was a great vegetable grower, as was my grandfather. Right from a young age I've grown veg, and my wife Chris and I are about 60% self-sufficient here. We've got ducks, and chickens, and we keep the odd pig. We try to do without the 40% we haven't got. A good garden doesn't take that long; an hour or two of an evening or a Sunday morning either before or after bell-ringing. I'm captain of the bell-ringing team; I've been ringing since I was 12 years old. Everything I've done, the thatching, the farm, and the garden, has been about job satisfaction. When it goes well, there's nothing better, and I'm chuffed."