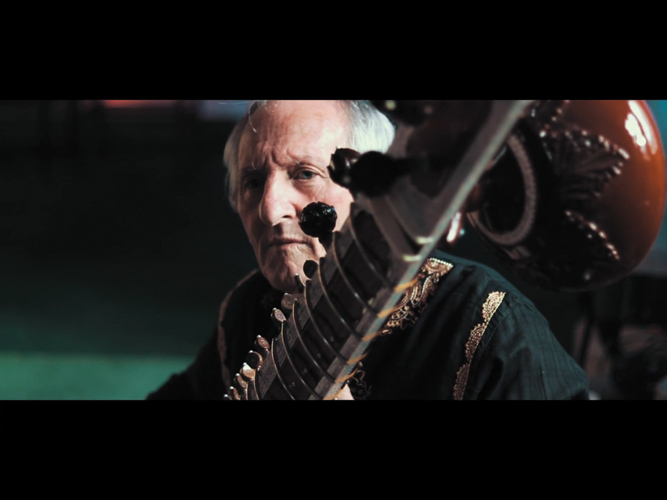 A film shows a lone fisherman sitting in a tent on an empty beach after sunset, while a rusting yellow digger waits on the quay for its next job. The only movement is the tide and washing left to dance slowly in a gentle breeze. The camera finds empty shops, an empty takeaway, a single car crossing the bridge and a mother taking her toddler for a breath of fresh air. As the sound of a gentle wave washes the pebbles, two young people sit on the edge of an empty shoreline—a pink neon sign offers welcome and pizza.
Against the background of a simple piano soundtrack the film could easily depict the eerie silence that descended on towns and villages as COVID-19 lockdown enveloped the South West. However, much of the film, off peak, was made before the coronavirus pandemic hit. It was shot by Kilmington based student Jesse Adlam and is one of seven short films that Jesse has made in the last year before he goes to study Filmmaking at the Northern Film School in Leeds in September.
Jesse began to develop an interest in photography when he was about 13 by making simple short montage films set to music. 'In 2016 I entered the Force 8 /Bridport Film Festival youth competition and won Best Director/Best Producer for a short film I made in the Scottish Highlands to a song track made by young musicians at bSharp in Lyme' he explained. 'One of the judges of this competition, Hester Schofield, offered to mentor me for a while and gave me some useful advice about developing my subsequent films, and also about where I might go to learn more about making films.'
Jesse's A levels were cancelled this year but he is really looking forward to the next step in his education in Leeds. Fascinated by film and photography he says: 'I can't wait to meet people who are also passionate about film, and to gain further experience in working as part of a film crew.'
In another of his films, Are we living too fast, the wide open spaces of what might be Exmoor, where ponies ramble unconcerned by life beyond the next blade of grass, is juxtaposed against trains, tubes and the mad rush to work in cities—as well as the criss-cross of contrails left by jets in the sky. The film uses a soundtrack that builds to a crescendo leaving little doubt that these places are worlds apart.
Jesse explained how his interest in film developed. 'Through studying Photography A-level at Woodroffe School I learned about a broader spectrum of techniques and experimentation as well as film history and criticism' he said. 'I came across photographers such as Henri Cartier-Bresson and Don McCullin, alongside my own discovery of film makers such as Paweł Pawlikowski. What I love about Pawlikowski is the way he takes great care over the cinematography of his films, how it is often striking and simple and dramatic all at once and how, in concentrating on the visual, he hones in on the characters and how they develop throughout the film to tell the story.'
Last year Jesse made a short film for Shute Literary Festival. It celebrated Devon's natural beauty, its rolling hills and the deep history of Shute and its literary heritage. The film shows Jesse's interest in imagery without clutter. 'I am increasingly interested in films that are made independently and that do not adhere to big-budget mainstream film production, by doing away with stereotypes and cliched ways of storytelling' he says. 'I prefer films that express a story or an idea in ways that are visually experimental and innovative. For example, in the film Moonlight by Barry Jenkins I really liked the simple storyline which feels like it could have happened hundreds of times over in different peoples' lives, and how the story never fully resolves itself which is truer to real life and challenges the conventional start/middle/end format we see in the majority of films.'
We may be living in bleak times and the future for young people could be a lot tougher than it has been for many generations, but films like Jesse's show that creativity is alive and that's something we need to support in the new world ahead.
Before setting off to Film School in the autumn, Jesse is keen to work on more films and is always interested to hear about potential commissions. If you would like to discuss a film idea he can be contacted by email at: jesseadlam8@gmail.com