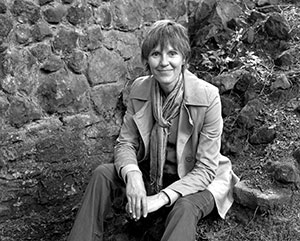 Sue Macpherson was born in Dar-es-Salaam, Tanzania, and lived in a number of different parts of Africa. Sue said, "When I was nine years old and living in Sierra Leone, I was attending a school which had a dilapidated hall with no roof and a swimming pool which frequently contained snakes and frogs. My parents decided at that point that some continuity and stability in my education was going to be necessary and I was sent to boarding school in Taunton, Somerset.
On my fourteenth birthday I was given my first camera which quickly led to a desire to learn more about photography. It was thanks to an interested member of staff at Taunton School that I was introduced to the mysteries of dark room work. This inspired a lifelong love of black and white photography."
Sue studied at Harrow College of Art and then, after marriage, at Gloucester College, qualifying for a British Institute  of Professional Photography Diploma.
"In the years when my three children were small I worked as a freelance photographer and at the same time qualified as a Design Technology teacher. My teaching commitments, though, grew to the point where for a number of years I had to give up photography. Three years ago I moved to Dorset and I now teach photography part-time at Bryanston School."
The majority of Sue's work has been black and white portraiture. Over the years she has photographed children and families and has had commissions from magazines such as Oxford Today and The New Scientist. Sue has exhibited her portraits on two occasions. Once privately at Beechwood Park in Hertfordshire which led to an invitation to exhibit her work alongside celebrated photographers such as Patrick Lichfield and Koo Stark, at the inaugural exhibition of the Collyer Bristow Gallery in London.
Sue added, "Now that my children have grown up and with my move to Dorset, I have time to work towards the Associateship of the Royal Photographic Society, which has been a lifelong ambition."