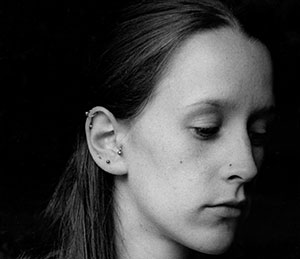 Claire Harvey was born in South Brent on the edge of Dartmoor, but moved to East Devon at an early age. Here, her family run a dairy farm at Musbury near Axminster and Claire looks back fondly at her childhood years, growing up in this friendly community.
'I especially remember my early years at Musbury Primary School in the early 1990s, and this has probably led to my choice of a career in childcare. After leaving Woodroffe School in Lyme Regis I spent some time travelling through France and Spain. I'm now 22 and have just completed a two-year National Diploma course in childcare, at Exeter College, with work placement. I hope to find employment in a local nursery; I'm quite creative and like to make things with the kids – we made a cardboard train this week.
Living in the countryside has heightened my concern over conservation issues and I'm keen to promote the safeguarding of natural resources, through recycling and the use of environmentally friendly materials. I tend to use alternative rather than conventional therapies, especially herbal remedies. I've worked part-time in Ganesha, a local health shop, for about seven years.
I love animals; I'm passionate about cats. I enjoy reading and walking in the countryside, particularly in the area around Lyme Regis. I also have an interest in photography.'