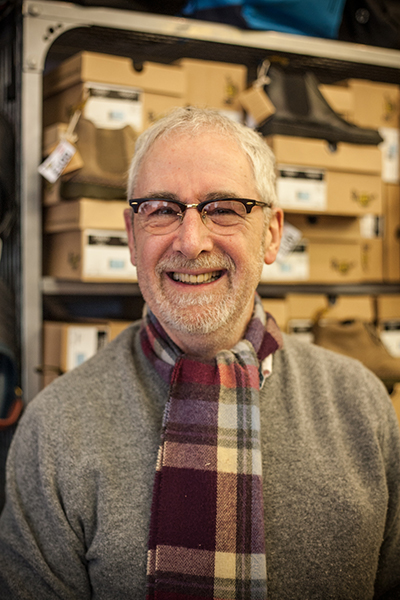 From selling espadrilles on a Saturday in Bridport Market to Doc Martin's out of his high street shop, Riff Tilbury knows all there is to know about selling shoes. He would leave before dawn on a Sunday morning travelling from London to Cornwall, selling shoes from his stall with Julie, his wife and Jason, her brother. After a number of years they opened up Steptoes shop in Dorchester, followed by another in Bridport, where they are now based.
Originally from West London, Riff left school at 14 and trained as a Litho Printer, eventually moving and working for Henry Lings in Dorchester. He became a Union Representative, "but now I'm an employer and the boot is on the other foot. I still have the same philosophy though as when I was a Shop Steward," Riff emphasises.
The life of a musician then called and with band Rusty Blade, Riff was on the road again. One Saturday a mate asked him to man his market stall, which is where it all began. Riff then met Julie and they travelled over 1,000 miles a week selling shoes, developing the strong partnership that still exists. When they first opened shop in 1990 they barely had enough stock to fill it, but working hard they developed the business, now a much-loved footprint of Bridport's shopping scene. Catering for everyone they sell all manner of shoe ware, from socks, green wellies, brands like Animal and Crocs to flip flops.
Concentrating on the running of the store, Riff tends to stay back-end and comes out front during busy periods. As a former Ultra Marathon Distant Cyclist, 1996 saw him peddling from Coast to Coast of America in 22 days and across the Pyrenees including 17 cols in 2000; this man likes a challenge. Currently learning to ride, Riff says he lets the horse do the hard work now. He also plays in local band No Country for Old Men. What could be next for Riff? "Riding the horse well while singing with a guitar"…Bridport had better watch out.