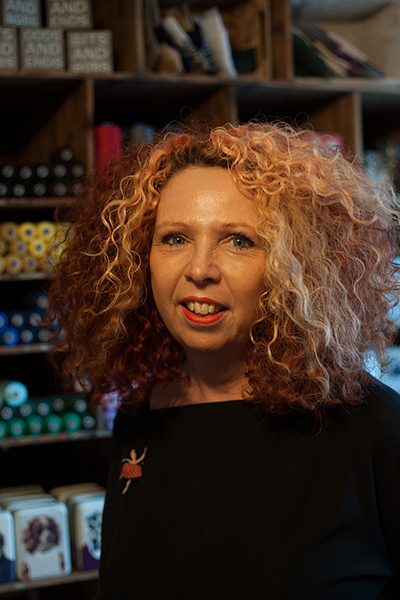 For a person to wake up at 4.30am every morning there must be a lot to do in their day. Caroline Smith says it's a habit she can't seem to break as there is so much going on in her head she just can't switch off. She eats, sleeps and breathes running the sewing business Sew La Di Da Vintage in Lyme Regis.
Caroline made wedding dresses for 30 years before taking the plunge to follow her heart and set up a sewing school. At first she taught from modern and vintage commercial sewing patterns but became frustrated seeing her students' disappointment when the garments didn't fit properly. Studying the patterns and comparing them with high street sizing she discovered there was a difference of up to four dress sizes. So Caroline set about making her own patterns, designed to fit the modern, curvier, classic, British figure.
At the core of the business Caroline is passionate about empowering women to create their own style and give them confidence to create their own dresses. "I am inspired by good design and beautiful fabrics, but it's helping other people that gets me out of bed. A service to sewing rather than making money that drives me," states the designer.
Today, Caroline has a shop at Town Mill, runs sewing workshops—from baby showers to body pattern cutting, teaches sewing classes, sells patterns online and is busy designing new items to introduce to her ever growing client base. Her cape kits recently sold out at a show in Paris and she has just finished a child's dress pattern. Not to leave out the men, her son models the Mr London waistcoat on the website.
This lady's day is never the same. The only certainty being she'll be up with the lark, ideas spilling over. Whether Caroline is at a show in London or Paris, selling unique fabric from the shop or teaching a GCSE sewing class, it'll be in a Sew La Di Da fashion.