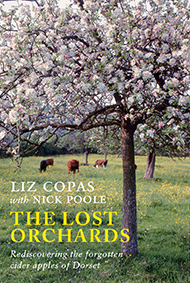 If you love Dorset Cider and are curious about old Dorset orchards or simply want to know what cider apples to plant when you buy your next manor house or small holding, then this is the book we have all been waiting for. Liz Copas, the last pomologist from the renowned Long Ashton 'Cider' Research Station has teamed up with Dorset Cider maker Nick Poole of West Milton and over the last 20 years they have beavered away on their painstaking cider research. A labour of love which has taken them to all four corners of the county.
The initial pilot research project was funded by 'Chalk and Cheese' and in those early days very few Dorset cider varieties were known. Yet over 200 years ago in 1793 John Claridge reported that there were 10,000 acres of orchard in Dorset. Every parish and every farm had large orchards. Where have they all gone? Where indeed…
Since the 1950s farms slowly became larger and the number of farm workers dwindled. Lager, breweries and best bitter also took their toll. Pub chains could not handle scrumpy. After the 2nd War Dorset cider went down hill and almost disappeared without trace. But Dorset cider was kept alive in several 'secret' locations… Captain Thimbleby's at Wolfeton House outside Dorchester was one, as well as bespoke cider clubs in Chideock, Monkton Wyld, West Milton and Nettlecombe. Interest in cidermaking is now endemic thanks in part to the famous Powerstock Cider festival founded by Nick Poole. Dorset Cider is now not only cherished, but there are over half a dozen cider companies making Dorset Cider commercially. Many enter every year for the Melplash Show Cider competition.
This fine book is an invaluable guide to many half forgotten and unknown cider Dorset apples. Luckily Liz Copas, before she left Long Ashton managed to save some important documents including a list of Dorset cider apples compiled by Mr Pickford when he visited the area in the 1930s. These included Golden Ball, Buttery Door, Tom Legg, King's Favourite, Reinette Obry and Best Bearer. Other cider apples Liz and Nick found were high tannin Somerset apples and sweeter Devon varieties. Many had no name and that was where the hard work came in. They compared apple juice reports to earlier Long Ashton notes, then made single variety ciders to see what they tasted like, making notes year after year. Often Liz and Nick had to give names to these 'new' varieties once their DNA and genome sequence was found to be 'unique'.
These also included Symes Seedling, Hunters Ground, Lancombe, Marnhull Mill, Dorset Winter Stubbard, Yaffle, Cattistock Pink, Golly Knapp, Ironsides, Matravers, Puddletown, Best Bearer, Frome River, Marlpits, Dewbit, Tangy, Meadow Cottage, Cap of Liberty, Hains Sweet and Hains No.2. All Dorset apples.
Many cuttings were also taken and carefully grafted to produce a whole new generation of Dorset cider apple trees. In 2011 Liz and Nick, helped by Rupert Best and Herefordshire nurseryman John Worle, established a trials orchard at Melplash called 'Linden Lea.' Cider enthusiasts could buy their own apple trees and plant their own Dorset cider orchards. Propagation work now carried out by Tom Nancarrow of Adam's Apple in East Devon.
The final proof of the pudding was in 2020 at Hincknowle Barn when a batch of 20 single variety Dorset ciders were made from this mother orchard and blind tasted. Quite an event. Quite an achievement. A whole new experience and the ciders judged accordingly. Golden Ball got gold medal.
Cleverly woven into the book are many fascinating historical stories and events. Several old cidermakers are mentioned including Harry Warren his son Hubert Warren and William Oliver all of Netherbury, as well as Edward Smith of Stoke Abbot and James Best of Melplash. Maybe it is no coincidence that Alasdair Warren is now following in his grandfather's footsteps. Dorset Cider is alive and kicking and this book will give many people not only great pleasure but a fine introduction to the Lost Orchards and cider history of Dorset. A renaissance that both Thomas Hardy and William Barnes would be proud of.