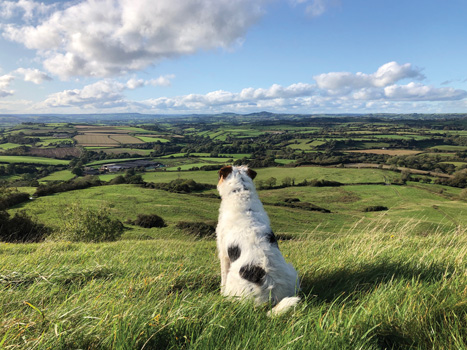 Stories and Memories from the Dorset Landscape
Dorset Area of Outstanding Natural Beauty planned to celebrate its 60th anniversary in 2020 with nine interactive projects but Covid-19 meant some of them had to be put on hold. Margery Hookings finds out about one project, Talking Tent, which focuses on landscape and landscape-based lives.
When Dorset AONB began thinking about activities to mark its 60th birthday in 2020, no-one could have envisaged that a worldwide pandemic would send people scurrying into their homes, with all sense of community and public participation thrown out the window.
Projects had been lined up to raise the awareness of the AONB through volunteering taster sessions and talking with people about their hopes and ambitions for the landscape over the next 60 years to shape future conservation.
A small grant fund was launched to catalyse community-led landscape heritage conservation at grassroots level. But when the pandemic struck, the AONB, just like organisations, venues and individuals around the globe, had to think of different ways of doing things.
Talking Tent was due to be launched in Easter 2020. Led by poet Sarah Acton and professional storyteller Martin Maudsley, it's a creative heritage project celebrating the connections between people and place through the telling of and listening to stories.
Described by the AONB as 'a facilitated space to weave together threads of thinking and conversations around how the living landscape holds personal memories and stories, as well as frames future visions for the places where we live and work' Talking Tent was meant to be a physical, pop-up tent which would appear at festivals and community celebrations in Dorset through the calendar year.
The AONB's version of the BBC's Listening Project was a place where stories and memories of the Dorset landscape over the past 60 years could be shared, along with ideas and conversations about the next 60 years.
But the plans were decimated by Covid-19.
Sue Dampney, Dorset AONB's Culture, Community & Learning Office, says: 'I was devastated when I realised that Talking Tent would be cancelled due to Covid. Of all our 60th anniversary projects. I think this was the one I was most excited about as it was an opportunity to reach people who don't normally get involved in our work. Pitching up at a range of events across Dorset had seemed like a great way to open our eyes to different perspectives about the landscape.'
But all was not lost. Using what Sue describes as their creativity and tenacity, Sarah and Martin were able to revive the project with a launch in spring 2021 and a range of Covid-appropriate activities.
Says Sue: 'It's been energising to see how they have re-imagined the project and been brave enough to propose new activities. Talking Tent is constantly changing to meet the challenges of Covid. I really hope we can resurrect the project once things have settled down and people feel safe to attend events and talk face-to-face.'
So far, there have been two 'Walk-shop' events—guided walks and conversation held on Black Down the ridge of land around Hardy's Monument; an online conversation about Spring bringing together Nick Groom, the author of The Seasons: An Elegy for the Passing of the Year, and Nick Grey, West Dorset Conservation Officer at Dorset Wildlife Trust; a drop-in session at Durlston Country Park and social media activity to encourage people to record short clips about what they feel about the Dorset landscape, backed up by seasonal prompts on the AONB website.
Sarah says: 'Talking Tent opens conversation about personal relationship to landscape and celebrates seasonal customs in families, fields and in local communities. Our focus is past memory, being present and alive to our own connections today and very much future hopes and ways to look after the landscape for others to come.
'We are talking to lots of communities, some of whom hold folk song and tradition very much as part of their living present, part of the communal identity and as a commonality bringing them closer to a sense of local place and belonging where they live or work.'
The project talks to people about changes they have seen in living memory and hopes for the future.
Sarah says: 'By opening up these conversations, participants often seem to rediscover or connect again to the remembering process; to remember what is important to them, what they value and want to protect in the landscape, their own relationship to nature, wildlife and specific places in the Dorset AONB.'
Sarah and Martin are making a series of one-to-one recordings, which will be curated into podcasts by environmental charity Common Ground and Little Toller Books and archived at Dorset History Centre. Intergenerational conversations are also being recorded at two secondary schools.
Says Sarah: 'It's an absolutely wonderful project. Because of the pandemic, it's changed shape a few times but it's brought us back into smaller, one-to-one conversations with people.'
She adds that, if anything, the pandemic has made everyone even more appreciative of their local landscape, the importance of talking, telling stories and community activities.
Says Martin: 'The Dorset AONB is rightly celebrated for its geology, archaeology and wildlife but for me the landscape is also held together by stories – the everyday tales of people and place over time.
'I've been really touched by the emotional resonance that contributors have revealed through telling their stories and how deeply they cherish and care about their own local landscapes and communities.
'The pandemic period has limited how often and how many people we can interact with directly but it has also inspired us to seek out and record different voices that illustrate the nature of living, working and playing in the Dorset countryside.'
The Talking Tent will be a physical presence at the Inside Out Festival at Symondsbury on the weekend of 24 an6 26 September. Visitors will be able to hear some of the recordings made and also take part in Walk-shop activities.
Says Sue Dampney: 'It's been wonderful to be adopted by Inside Out Dorset who totally understood what we were trying to achieve and have offered to host Talking Tent as part of their festival activities at Symondbury in September.'
Sarah and Martin will be sharing their stories, poems and feelings about summer and want to hear the stories, memories and ideas of others about Dorset's diverse nature, heritage and culture.
In the meantime, you can listen to some of the contributions by visiting the Talking Map on the Talking Tent webpage dorsetaonb.org.uk/project/talking-tent/ where you will find more information about the project.
At the end of the project, some of the recordings will be made into thematic podcasts and archived at Dorset History Centre. A summary of what people have shared about the landscape will be an important insight for the Dorset AONB team when developing new projects and its next management plan.
Dorset AONB
Sixty years ago, a line was drawn around nearly half of Dorset's landscape from the vales in the west, along the South Dorset Ridgeway, right across to Poole Harbour in the east. This line marked the Dorset Area of Outstanding Natural Beauty (AONB), a designation which alongside our National Parks make up our finest countryside and landscapes protected in the national interest for future generations. dorsetaonb.org.uk
Sarah Acton
Sarah Acton is a writer living on the Jurassic coast in East Devon. She has a passion for maritime and coastal culture and writes poetry, short stories and observations inspired by the sea, coast, and English coastal communities. She leads workshops, retreats and creative social engagement projects. She always drafts her writing outdoor. She has worked on projects with local museums, libraries, schools and memory cafes to encourage creative engagement with nature. She is currently writing a community play about Portland quarries called Heart of Stone. sarahacton.co.uk
Martin Maudsley
Martin Maudsley is a professional storyteller based in Dorset who works across South West England. He tells stories in theatres, festivals, schools, village halls, pubs and outdoors. His repertoire includes retelling traditional tales, from local legends and earthy folk-tales to magical myths and epic sagas, using poetry, music and song. He works regularly with local and national organisations providing storytelling performances, tailored projects and creative workshops. He is storyteller-in-residence for Dorset-based environmental arts charity Common Ground. martinmaudsley.co.uk