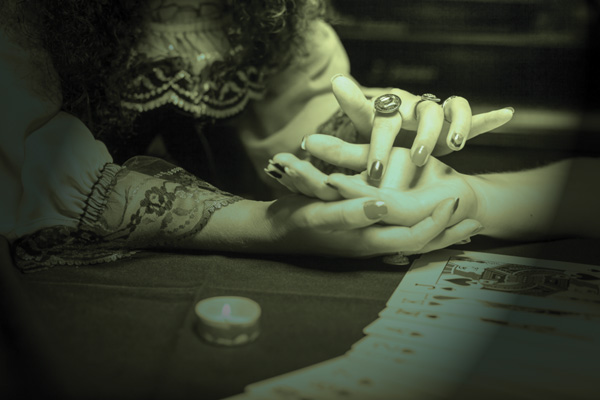 When I was small I could read quite well, and when my father had finished reading the Sunday newspaper I would avoid the large news items and turn to a column of astrology by Gypsy Petulengro. It did not occur to me then that many people would have the same birth sign and apparently have identical fortunes. I was intrigued by photographs of the gypsy, wearing a spotted handkerchief on his head and another round his neck. He also advertised herbal remedies.
Petulengro broadcast on the radio in the 1930s and 40s, including In Town Tonight on the BBC. His first name was Xaviar and his surname derives from horseshoe and man, blacksmith, and the surname is as common to gypsies as Smith is in England. He was known as a horse trader, a violinist and "King of the Gypsies". Petulengro was said to have been in the British army and I wonder how his NCO's coped with his name!
Before 1939 gypsy ladies frequently called at houses in our village, selling bunches of wild flowers or clothes pegs, which had been made by their families, and they were always polite. I became interested in their use of herbs, which I had read about and tried to make tea from roasted dandelion leaves, supposed to be a headache cure and also coffee from the roasted root, but neither was very successful. I obviously did not have the gypsy expertise.
I have been reminded of the foregoing by coming across a book my wife had been reading The Girl in the Painted Caravan — Memories of a Romany Childhood by Eva Petulengro, published in 2011. It is an easy to read book, including 16 pages of black and white photographs and tells much of the Romany language and customs. Eva does not mention Xaviar, presumably not being closely related, although they have many similarities. Eva lived in a painted caravan, which they called a vardo, and they travelled in Norfolk and Lincolnshire at first. Most of the females of Eva's family could read palms, or dukker, which was passed down from one generation to another. Eva was born, like most of her cousins, in her grandmother's vardo in 1939, which was very special, having been made by Dunton's of Reading and thought of by Romanies as a Rolls-Royce. It was painted red outside with gold leaf motifs and a carriage lamp either side of the door. Inside were engraved cut-glass mirrors reflecting china Dresden ornaments by the light of two ruby cut-glass oil lamps. Grandmother was called Alice Eva Taylor and married Nathaniel Petulengro, a horse dealer. After the wedding Alice's mother gave her a gold charm bracelet with five gold sovereigns hanging from it. This was a Romany custom as they did not trust banks and they could wear their savings, or sell their rings, ear rings or necklaces, if necessary.
The family fortune changed in 1927 when Grandfather Nathaniel met an old friend, Billy Butlin, who was about to open an amusement park in Skegness. It was suggested that Alice could open a palmistry booth there for six months. Alice and her daughters operated two booths, under the name of Madam Eva, charging 2s 6d per hand. The boys bought cameras and sold holiday snaps. Later Alice realised that life on the road with a horse drawn wagon was becoming difficult and decided to buy aluminium caravans and cars. The boys took driving lessons and the vargas were left on permanent sites.
Non Romanies are called gorgers by Romanies. Life became more difficult as some gorgers imitated gypsies and gave them a bad name. We still meet men who offer to "tarmac your drive for a tenner", who may not be gypsies.
Eva's mother, Laura Eva, married a gorger, Eddie Price who had worked erecting Butlin's park. At first all was well, but when war came he joined the army and afterwards seemed to be changed, keeping them away from their relatives and was rough with his wife and children.
Young Eva did not go to school, but she managed to learn to read and write, sufficient for her purpose. They had problems during the war, not being registered for ration books, pensions or "dole", but they received temporary ration books and lived quite well. Grandmother Alice kept hens and men hunted hedgehogs, which they called hotchi, eaten after baking in clay.
Aged 9 young Eva would sit in and learn from her mother reading palms. As soon as a client entered, she would say, loudly, "I'm going to tell you what I see and what I feel", to stop them talking. Eva became interested in astrology and tried to assess people's characters and their star signs. Young Eva opened a palmistry booth and was quite successful. When she became 21 she found an advertisement in the World's Fair magazine for a palmistry place in Brighton. They sold the vardo and her mother found a furnished flat. In April 1960 Eva arranged to rent the forecourt of a house opposite the West Pier and she erected a garden hut, carpeted inside, with a card table and two chairs. A notice outside read "Eva Petulengro, Palmist and Clairvoyant".
Soon after opening up they heard the Brighton Evening Argus newspaper was organising a ball at the Regent Ballroom, for charity and Eva offered her services, giving readings for the public. The editor of the newspaper invited her to join the celebrities and read some of their hands. First was Zena Marshall, the first Bond girl, followed by William Hartnell (Doctor Who), who danced with her, as did Norman Wisdom. She also met Phyllis Calvert and Leo Glenn. Next day the newspaper had a double-page spread, which was very complimentary about Eva and her work. This was followed by an invitation to meet the editor at his office. She took along a sample horoscope. The editor was impressed and surprised when she presented her offering and invited her to write a daily column. He called in a secretary and asked her to type it, adding you may have to dictate it, as Eva's script was not very intelligible. He asked Eva to write a daily column for £3 a week. After six months it was suggested she should go to the Press Association and have her column syndicated to other papers and this was succesful.
In 1962 Eva was invited to appear on the TV programme What's My Line, presented by Eamonn Andrews, with a panel of Lady Isabel Barnett, Barbara Kelly, Gilbert Harding and Gerald Nabarro. She appeared to the panel as Eva Smith. Barbara Kelly, second to guess, asked are you a clairvoyant or astrologer? Eva's next venture was to suggest a horoscope magazine to the Brighton Evening Argus and this was produced for Christmas, proceeds for charity, funded by advertising and sold 5,000 copies. Eva then had the magazine produced regularly.
The Beatles came to Brighton, playing at the Hippodrome in 1964 and Eva managed to meet them back stage, reading the palms of George Harrison and Paul McCartney, before they performed. Soon after Eva was photographed separately reading the palms of Michael Crawford, Vera Lynn and Bob Monkhouse.
Eva went on to marry a gorger, Johnnie, and apparently had a happy marriage following her interesting young life.
Cecil Amor, Hon President, Bridport History Society.