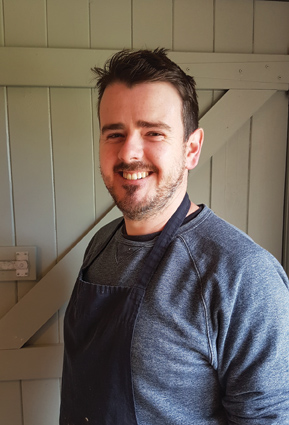 What a wonderful name to have as a chef; Chris Onions. Chris's surname is something he proudly celebrates, with an onion featuring in the logo of The Old Dairy Kitchen, part of Trill Farm. The business was set up by Chris five years ago, based in the eponymously named Old Dairy, part of the collective of independent, organic and sustainably run enterprises operating at the 300-acre farm just outside Axminster.
A large kitchen greets visitors, with wooden tables adorned with wildflowers, welcoming diners and course attendees alike. Large Kilner jars bursting with a rainbow of preserved produce divide the dining and kitchen area. Chris is an advocate of using everything he can from as local a source as possible. Vegetables are grown a few meters away by the organic fruit and vegetable business, the meat from neighbouring pastures. Opening the doors for lunch twice a week and catering for the events that take place on the farm, this chef is always busy. Chris also runs courses, sharing the information he has gleaned over the years, as well as his highly anticipated monthly feasts, celebrating the abundant seasonal produce available.
Chris grew up in Scotland on the island of Islay. He knew from a young age that he wanted to go into the catering business. He travelled to Australia, learning all he could, his path then diverting him to Scandinavia to cook at a project offering care and training for a variety of disadvantaged groups as part of a Care Farm Cooperative. Some years later the opportunity arose to come to River Cottage HQ with a sea urchin diver, who Chris had befriended. Chris's cooking path now steered him south, so energised was he by what he had seen at River Cottage, determinedly seeking and finding a job there, integrating himself as part of the team. He lived on Trill Farm, so when the opportunity to run his own business there arose, he jumped at it.
Always finding new ways to preserve and serve his food, Chris is passionate about what he does. This summer he anticipates evenings by the beach catching fish, going for walks, picking what's available and getting stuck into the vegetable garden himself. But most of all, he's eagerly awaiting the arrival of his baby with partner Anna, due to emerge into a world of natural eating and sustainable nourishment this Autumn.