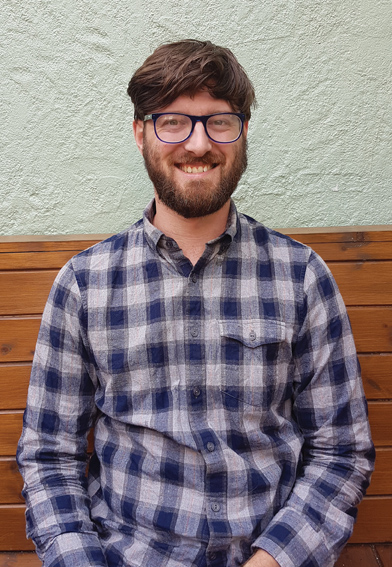 'Frenchie' has never been called James, he's been Frenchie from the start, as long as he can remember. A local lad, who grew up in Litton Cheney, he has lived in Bath for a bit and Italy for a while, but mainly has made his way in hostelries in or around Bridport, working hard to now be General Manager of The Stable in Bridport. He was one of the original recruits when The Stable first opened its doors 10 years ago and although he has worked at other places in the last few years, including helping open up The Stable in Bristol, Bath, Newquay and Weymouth, has now returned to take the Bridport cider and pizza establishment through to the next decade.
Passionate about what he does, Frenchie is proud to work for a company that celebrates and showcases local producers. He is keen to introduce more community links between The Stable and Bridport, demonstrated so far by inviting local artists to exhibit their art, installing soft furnishings on the ground floor, and showcasing live local music four nights of the week. Happy to be celebrating 10 years since they opened their doors Frenchie is looking forward to thanking the town for their continued support with a big showdown party in October.
When Frenchie does manage to get home, it's often late at night. The first thing he does is go upstairs to say hello to his young baby daughter, who greets him with a large gurgling smile when she sees him, before falling to sleep once more. Then he puts all the animals to bed; two dogs, five rabbits, three chickens, two pigs and a cat, before collapsing next to his partner Zoë. Pregnant with their second child, Zoe is long accustomed to the hours Frenchie works and takes it in her stride.
On Frenchie's day off you will find him rummaging around the charity shops and antique stalls in Bridport. He loves a good vintage find. Taking the chance to cook for Zoë, Frenchie will often produce exotic vegetarian food incorporating a fruit twist, such as jerk watermelon steaks or pineapple curry. Trying to avoid too much screen time for themselves and their children, the couple don't have a television. However, it's unlikely, with all those mouths to feed, that Frenchie would have much chance to watch one anyway.